(BIVN) – Hawaii County Civil Defense has issued its first message on Hurricane Lane, churning in the Central Pacific approximately 890 miles east southeast of Hilo as of 5 a.m. Sunday morning.
"At this point, it is too early to see any impacts to Hawaii Island" from the Category Three hurricane, the civil defense message stated. "No watches or warnings have been issued by the Central Pacific Hurricane Center."
"Civil Defense is monitoring the storm and will keep you informed of any changes that may affect your safety. Do take this time to assure that family emergency plans are updated," officials said.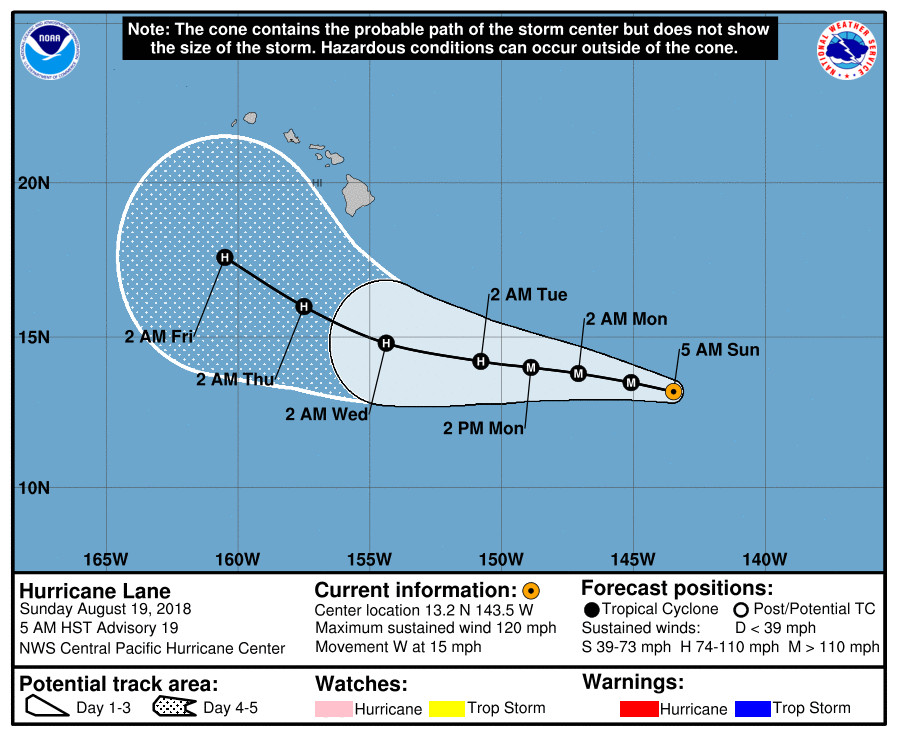 Lane is moving toward the west near 15 mph, with maximum sustained winds are near 120 mph. This general motion is
expected to persist today, with some slight weakening is possible later today or tonight. Lane is expected to continue moving toward the west from tonight through Monday night, but at a slightly slower forward speed, forecasters say.
"A large swell generated by Lane is expected to reach the southeast and east facing shores of the Big Island, and possibly east facing shores of Maui, by this evening," the Central Pacific Hurricane Center said. "This swell may produce large and dangerous surf along these shorelines starting later tonight or early Monday."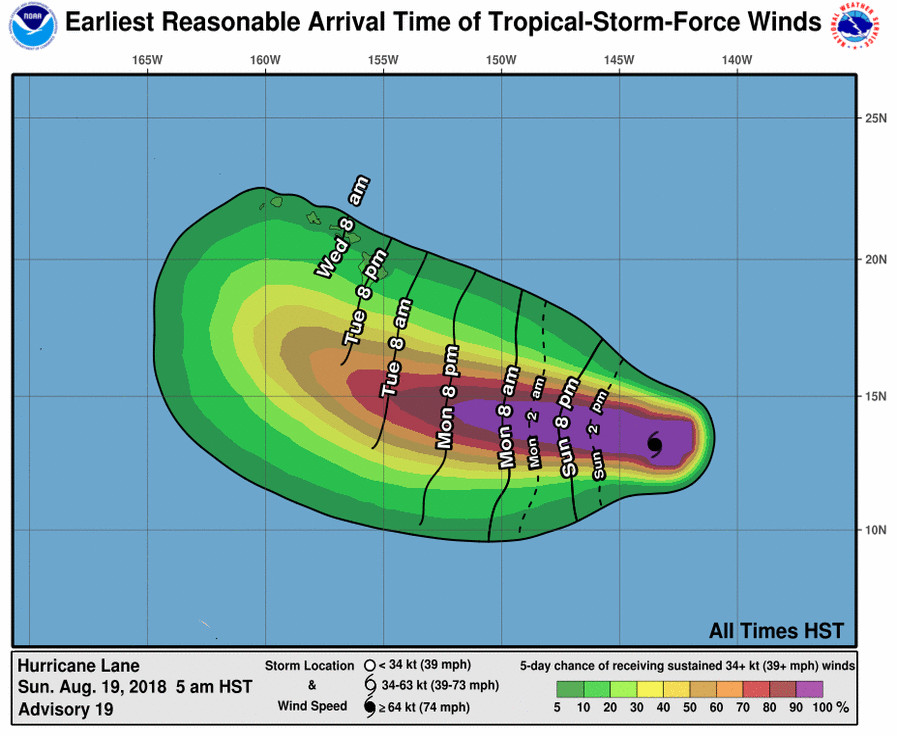 The motion of Hurricane Lane depends largely on a large subtropical ridge to the north, but "due to increasing uncertainty about the strength of the ridge, the model spread has increased dramatically," the hurricane forecasters say. Interests in the Hawaiian islands "should watch the progress of Lane closely, since long-range track and intensity forecast errors can be large," the Central Pacific Hurricane Center said in this 5 a.m. HST discussion:
Lane has not had a distinct eye in satellite imagery since late Saturday afternoon. However, a small warm spot appears to be indicative of an eye trying to form. In addition, a 1253z SSMI microwave pass shows a small eye completely surrounded by deep convection, which suggests that Lane remains rather well organized early this morning. This is despite southwesterly vertical wind shear of near 20 knots according to the latest UW-CIMSS output, while it is close to 10 knots based on the most recent SHIPS guidance. The latest subjective Dvorak intensity estimates are T5.0/90 knots from SAB, T6.0/115 knots from JTWC and T6.5/127 knots from PHFO. The most recent ADT from UW-CIMSS is now T5.4/100 knots. Based on a blend of this guidance, the latest initial intensity has been adjusted downward slightly to 105 knots for this advisory.

Lane's initial motion for this advisory is 280/13 kt. The latest forecast track has been adjusted slightly to the right of the previous track during the 12-36 hour and 96-120 hour time periods. A large subtropical ridge to the north of Lane will continue to keep the system moving along the same general track during the next 12 hours, but at a slightly slower forward speed during the 24-72 hour time periods. A shift toward the west-northwest will likely begin beyond 72 hours as Lane approaches the western end of the ridge. The forecast models are showing this western end of the ridge will erode due to an upper-level trough digging down northwest of the Hawaiian Islands. Due to increasing uncertainty about the strength of the ridge, the model spread has increased dramatically tonight. The changes in the current forecast track were based on nudging toward the latest HWRF and HCCA guidance, as well as the GFEX and TVCN consensus models. A NOAA G-IV aircraft plans to do a synoptic sampling in the environment around the Hawaiian Islands and Lane later today. The valuable data collected during this mission will be available to better initialize the forecast models.

The latest intensity forecast has been nudged up slightly, especially during days 4 and 5. This forecast closely follows the IVCN, which shows gradual weakening from 48 through 120 hours. The ocean water temperatures will remain in the 27-28 degrees C range along the forecast track, but there may still be 10 to 15 knots of vertical wind shear through most of the forecast period. Note that the latest CIRA analysis of Ocean Heat Content shows a local maximum along the track between 72 and 96 hours. If this verifies, this may allow Lane to remain stronger than anticipated beyond day 3.

Lane is forecast to pass south of the main Hawaiian Islands Wednesday and Thursday, potentially causing local impacts as it tracks west-northwestward. Interests in these islands should watch the progress of Lane closely, since long-range track and intensity forecast errors can be large.

FORECAST POSITIONS AND MAX WINDS

INIT 19/1500Z 13.2N 143.5W 105 KT 120 MPH
12H 20/0000Z 13.5N 145.1W 100 KT 115 MPH
24H 20/1200Z 13.8N 147.1W 100 KT 115 MPH
36H 21/0000Z 14.0N 148.9W 100 KT 115 MPH
48H 21/1200Z 14.2N 150.8W 95 KT 110 MPH
72H 22/1200Z 14.8N 154.4W 80 KT 90 MPH
96H 23/1200Z 16.0N 157.5W 70 KT 80 MPH
120H 24/1200Z 17.6N 160.5W 65 KT 75 MPH