(BIVN) – Olivia is still a hurricane, moving toward the west at 9 mph, 435 miles east northeast of Hilo. Hawaii Island remains under a Tropical Storm Warning.
Air Force Reserve Hurricane Hunters recently found that Olivia's maximum sustained winds are near 75 mph (120 km/h), with higher gusts, making it a weak category one hurricane.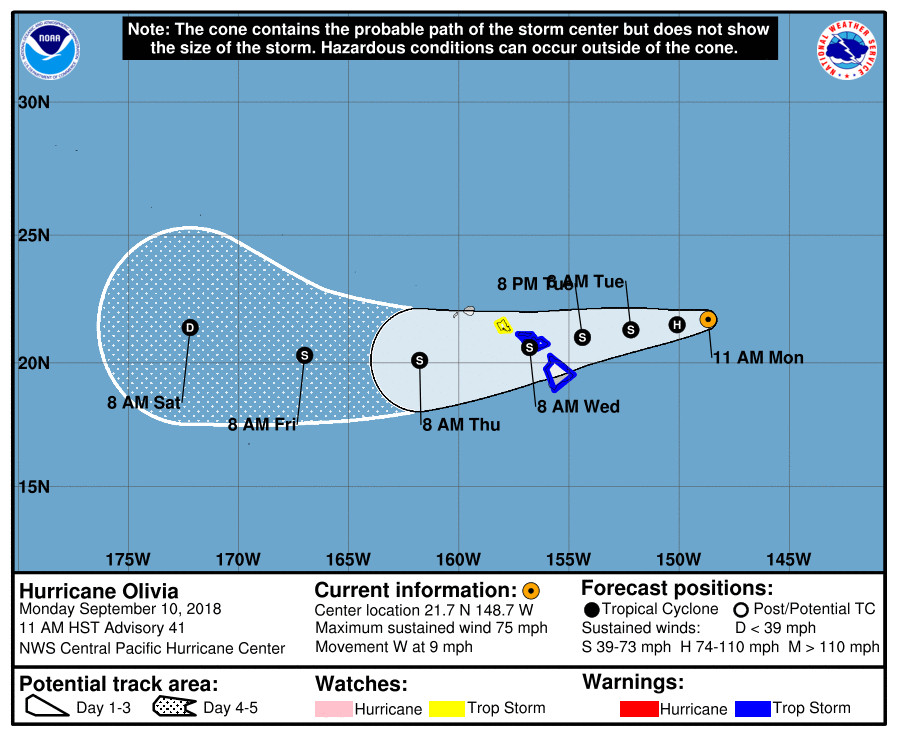 "Little change in intensity is expected today, with gradual weakening expected afterward," the Central Pacific Hurricane Center said at 11 a.m. HST. "Olivia is expected to approach the islands as a strong tropical storm. A continued west to west-southwest motion is expected for the next few days. On the forecast track, the center of Olivia will be moving over the main Hawaiian Islands Tuesday night into Wednesday."
As the storm draws near, forecasters are getting a better idea of the impacts Hawaii Island could be facing. The National Weather Service issued an updated Hurricane Olivia local statement at 11:11 a.m. HST:
SITUATION OVERVIEW
——————

Hurricane Olivia is expected to bring strong winds, heavy rainfall, and high surf to parts of the state this week. Olivia is forecast to close in on the main Hawaiian Islands Tuesday and move over portions of the island chain Tuesday night and Wednesday. Maui and the Big Island will be the first to experience impacts from Olivia. Do not focus on the exact forecast track or intensity of Olivia and be prepared for changes in future forecasts. Also, keep in mind that just because Olivia is forecast to be a weaker storm than Lane, the impacts could be significantly worse.

Damaging tropical storm force winds may begin as early as Tuesday afternoon across Maui and the Big Island. Additionally, hurricane force wind gusts are possible as Olivia moves across the state Tuesday night and Wednesday. It is important to remember that the mountainous terrain of Hawaii can produce localized areas of highly enhanced winds, even well away from the tropical cyclone center.

The chance for flooding rainfall will increase rapidly late Tuesday and will remain a significant threat through at least Wednesday. Storm total rainfall amounts are expected to be around 10 to 15 inches, with isolated areas up to 20 inches. Much of this will be focused on windward areas, however, flooding is still a significant threat for all areas.

Swells and surf generated by Hurricane Olivia will continue to slowly build through Tuesday, and reach damaging levels on some east facing shores Tuesday and Wednesday. Surf heights along east facing shores are expected to reach up to 20 feet on Maui and the Big Island, and 10 to 15 feet on other islands. This is expected to result in significant beach erosion and overwash onto vulnerable coastal roadways, particularly during high tides.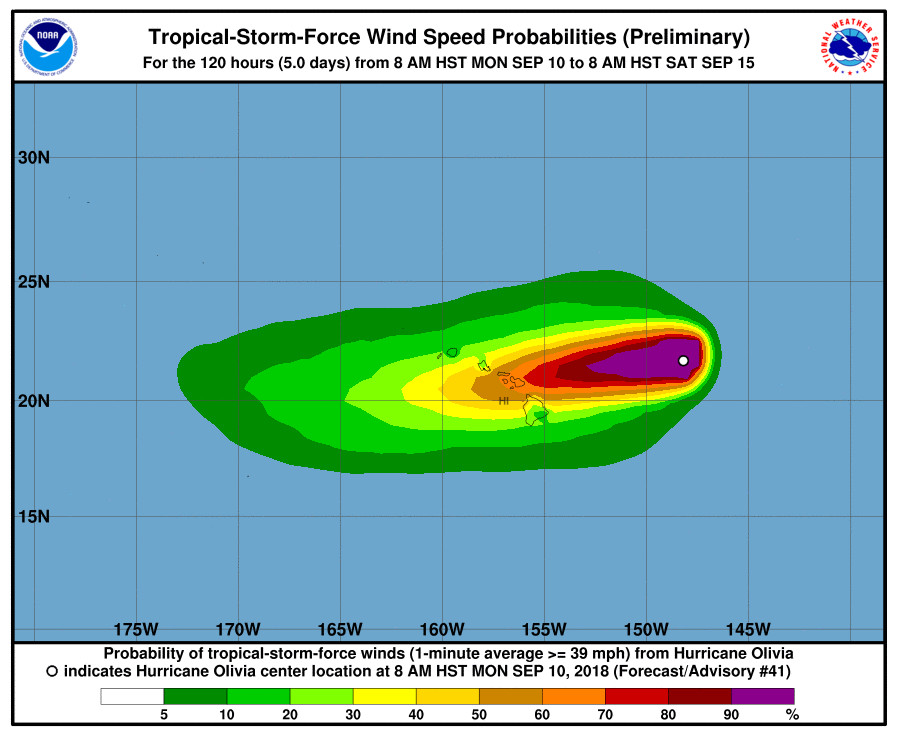 According to the National Weather Service, potential impacts could include:
WIND
Protect against dangerous wind having possible significant impacts across Oahu, the islands of Maui County, and the Big Island. Potential impacts in this area include:
Some damage to roofing and siding materials, along with damage to porches, awnings, carports, and sheds. A few buildings experiencing window, door, and garage door failures. Mobile homes damaged, especially if unanchored. Unsecured lightweight objects become dangerous projectiles.
Several large trees snapped or uprooted, but with greater numbers in places where trees are shallow rooted. Several fences and roadway signs blown over.
Some roads impassable from large debris, and more within urban or heavily wooded places. A few bridges, causeways, and access routes impassable.
Scattered power and communications outages, but more prevalent in areas with above ground lines.
Also, protect against hazardous wind having possible limited impacts across the remainder of the state.
FLOODING RAIN
Protect against life-threatening rainfall flooding having possible devastating impacts across Molokai, Maui, and the Big Island. Potential impacts include:
Extreme rainfall flooding may prompt numerous evacuations and rescues.
Rivers and tributaries may overwhelmingly overflow their banks in many places with deep moving water. Small streams, creeks, canals, arroyos, and ditches may become raging rivers. In mountain areas, deadly runoff may rage down valleys while increasing susceptibility to rockslides and mudslides. Flood control systems and barriers may become stressed.
Flood waters can enter numerous structures within multiple communities, some structures becoming uninhabitable or washed away. Numerous places where flood waters may cover escape routes. Streets and parking lots become rivers of raging water with underpasses submerged. Driving conditions become very dangerous. Numerous road and bridge closures with some weakened or washed out.
Protect against life-threatening rainfall flooding having possible limited to extensive impacts across the rest of the state.
SURGE
Protect against locally hazardous surge having possible limited impacts across east facing coastlines of Oahu, the islands of Maui County, and the Big Island. Potential impacts in this area include:
Localized inundation with storm surge flooding mainly along immediate shorelines and in low-lying spots, or in areas farther inland near where higher surge waters move ashore.
Sections of near-shore roads and parking lots become overspread with surge water. Driving conditions dangerous in places where surge water covers the road.
Moderate beach erosion. Heavy surf also breaching dunes, mainly in usually vulnerable locations. Strong rip currents.
Minor to locally moderate damage to marinas, docks, boardwalks, and piers. A few small craft broken away from moorings.
Elsewhere across the Hawaiian islands, little to no impact is anticipated, forecasters say.
From the 11 a.m. Central Pacific Hurricane Center discussion:
Olivia still has a very well defined low level circulation center, albeit with a somewhat asymmetric wind field. Air Force Reserve Hurricane Hunters confirmed what the 1623 UTC SSMIS and 1849 UTC GMI passes showed, that the system lacks a well-organized convective core. Recent visible satellite images are showing new convective bands developing on the east side of the circulation center, however. The initial intensity was lowered to 65 kt based on the reconnaissance data.

The initial motion is estimated to be 270/8. There is no change to the forecast track philosophy for this package, as Olivia is steered toward the west by a deep layer ridge to the west through north of the cyclone. This will continue to impart a just south of due west motion for the next 72 hours. The consensus models remain tightly clustered and have not budged. Our track forecast continues to reflect a blend of the consensus models and the ECMWF. It is worth noting that the last four runs of the GFS have trended north, and is now coming into much better agreement with the guidance consensus as well. After 72 hours, an upper level low will approach Olivia from the north and begin to pull the tropical cyclone on a more west-northwestward motion. Even at 120 hours, the guidance is fairly tightly clustered, and our track forecast remains very close to TVCN, HMON, HWRF, and FSSE.

Olivia remains over marginal sea surface temperatures of about 26.5C, but is approaching the edge of a weak shear environment, according the UW-CIMSS analysis. The SSTs will be warming along the forecast track, but the shear will begin gradually increasing soon. Without a strong eyewall or core, weakening should begin fairly soon after the shear increases. The intensity forecast continues to maintain Olivia as a hurricane through 12 hours, followed by slow but steady weakening thereafter. Our forecast is on the higher end of the guidance envelope through the first few days, but it is possible that weakening could occur faster due to shear effects and interaction of the circulation with island terrain.

KEY MESSAGES:

1. Resist the temptation to make comparisons between Hurricane Lane and Hurricane Olivia. Although Lane was a stronger tropical cyclone near the islands, it did not bring direct core impacts to the state. In some areas, Olivia could bring significantly worse impacts than were felt by Lane.

2. It is important to not focus on the exact forecast track and intensity when planning for Olivia. Persons on the main Hawaiian Islands east of Kauai should finish their preparations for direct impacts from this system starting as early as Tuesday night. Those impacts could include intense flooding rainfall, damaging winds, and large and dangerous surf.

3. Regardless of the exact track and intensity that Olivia takes as it approaches the islands, significant effects often extend far from the center. In particular, the mountainous terrain of Hawaii can produce localized areas of strongly enhanced wind gusts and rainfall, even well away from the tropical cyclone center.

FORECAST POSITIONS AND MAX WINDS

INIT 10/2100Z 21.7N 148.7W 65 KT 75 MPH
12H 11/0600Z 21.5N 150.1W 65 KT 75 MPH
24H 11/1800Z 21.3N 152.2W 60 KT 70 MPH
36H 12/0600Z 21.0N 154.4W 55 KT 65 MPH
48H 12/1800Z 20.6N 156.8W 50 KT 60 MPH
72H 13/1800Z 20.1N 161.8W 40 KT 45 MPH
96H 14/1800Z 20.3N 167.0W 35 KT 40 MPH
120H 15/1800Z 21.4N 172.2W 30 KT 35 MPH