(BIVN) – Mauna Loa, the largest active volcano on Earth, is not erupting and remains at a NORMAL alert level. But scientists with the USGS Hawaiian Volcano Observatory are keeping a close eye on the mountain.

"When I arrived in 2015, right off the bat I intended to focus a lot of my energy on preparing for a potential eruption at Mauna Loa, because it was showing signs of unrest," said Tina Neal, the Scientist-In-Charge at the USGS Hawaiian Volcano Observatory, during a recent Island Issues radio interview with Sherry Bracken. "We were seeing elevated counts of earthquakes, and steady rates of deformation, indicating accumulation of magma in the shallow reservoirs beneath the summit."

"This began to calm down, actually, in the summer of 2018, and we downgraded the volcano from – then the alert level was ADVISORY back to NORMAL. So, in retrospect, Mauna Loa experienced a spurt of unrest from about 2015 into 2017, and then it really began to slow down."

"For some time there, we were – of course – much more focused on Kīlauea," Neal said, referring to the dramatic eruption on the lower East Rift Zone and summit collapse that began in May 2018.

After a destructive summer, Kīlauea went quiet, and just recently the alert level for the volcano was downgraded to NORMAL for the first time since the alert system was introduced.

"Just within the last three or four months, I would say we've seen a return to inflation and slightly elevated earthquake counts at Mauna Loa," Neal continued. "So the lull or the quieting we saw in early 2018 has ended, and we're now looking at a slight uptick in activity."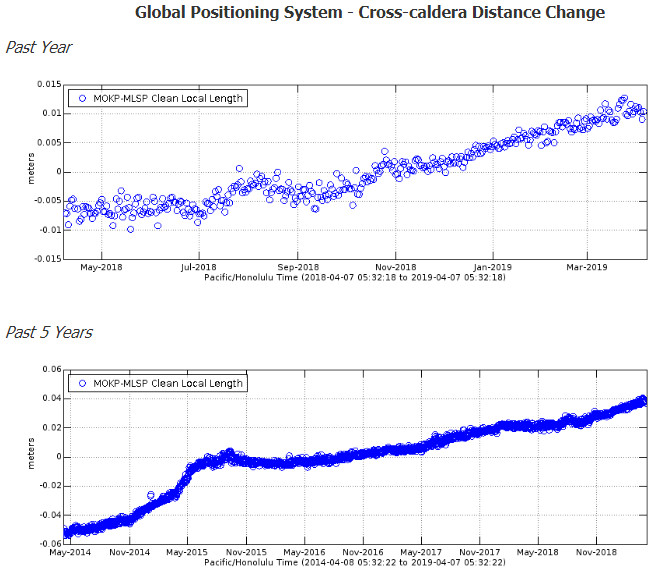 "The bottom line is that we are still watching Mauna Loa very carefully and it could well be moving towards a period of increased concern, but we have yet to raise the alert level from its lowest, quiet state to the next step up," Neal said. "We would need to see this pattern continue for a little while longer and then maybe have some different characteristics."

"Mauna Loa is not imminently going to erupt," Neal clarified, "but we are
watching it closely."

When Bracken asked if scientists see a relationship between the activity at Kīlauea and the activity at Mauna Loa, neal answered that "there is some suggestion – geologically, looking back – that during periods of Kīlauea quiet, Mauna Loa is more active and vice-versa. So, now that we're in a period of pause of activity at Kīlauea, one could suppose that this might be at a time of enhanced possibility of eruption at Mauna Loa. So that factors into our vigilance."

From the April 4 Mauna Loa activity update by USGS HVO:
No significant changes in Mauna Loa's seismic activity were detected in March. Small earthquakes, mostly less than M2.0, continued in long-active areas including beneath the northwest flank, summit region, and east flank. The largest earthquake for Mauna Loa in the past month was a M3.3 event, at a depth of approximately 2.7 km (1.7 mi) below ground level, near the summit on March 31. USGS received no felt-reports following this event.

Data from Global Positioning System (GPS) instruments on Mauna Loa indicate slow inflation of the summit magma reservoir system. The rates of deformation are lower than during the period of more intense unrest from 2014-2017.

Gas and temperature data from a station on the Southwest Rift Zone and within the summit caldera showed no significant changes over the past month.

HVO continues to monitor the volcano closely and will issue another update in one month, or earlier should conditions change significantly.
Mauna Loa last erupted in 1984, 35 years ago.