(BIVN) – Tropical Storm Barbara is ready to become a hurricane, weather forecasters say, and a strong one at that.
The National Hurricane Center in Miami said the center of Tropical Storm Barbara was 930 miles south southwest of the southern tip of Baja California this morning, moving west near 16 mph.
Barbara's maximum sustained winds are near 70 mph with higher gusts, and the storm is expected to become a hurricane later today, "and gather significant strength during the next day or two," the NHC says, possibly becoming a major hurricane in the next few days.
After 72 hours, Barbara should begin to quickly weaken as it approaches the Central Pacific.
Its too early to know if Barbara will have any affect on Hawaiʻi Island weather. However, the National Weather Service in Honolulu made this note in its morning forecast discussion:
Looking ahead to next weekend, forerunners from the swell produced by East Pacific Tropical Cyclone Barbara may arrive along east facing shores of the Big Island, and possibly Maui, starting Friday night or Saturday morning, assuming the system intensifies as forecast by the National Hurricane Center in Miami, Florida. It is too early to know the exact height of this swell at this time, so we will continue to monitor future tropical cyclone advisories and model guidance to determine any potential impacts that may occur along exposed shorelines.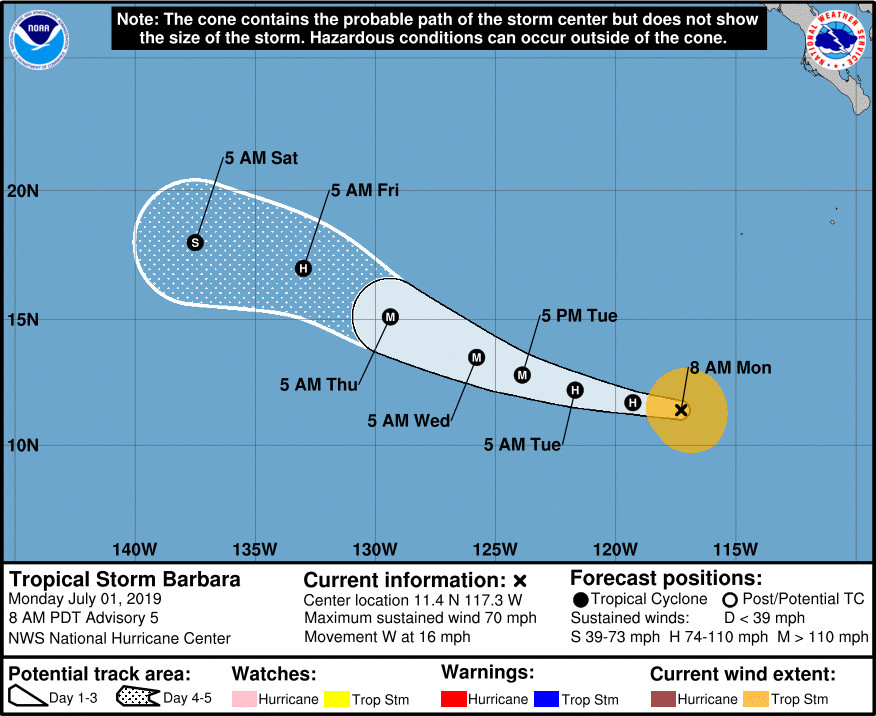 The National Hurricane Center provided this discussion this morning, courtesy forecaster Avila:
The satellite presentation of Barbara has continued to improve with the development of a central dense overcast, plenty of convective bands, and an excellent upper-level outflow pattern. The cyclone structure in microwave images has also improved, although the low- and middle-levels are not quite aligned yet. Dvorak T-numbers have continued to gradually increase, and an average of these estimates yields an initial intensity of 60 kt.

The environment of low shear and high ocean temperature favors significant strengthening of the cyclone, and in fact, Rapid Intensification Indexes provided in the SHIPS model suites are quite high, indicating that more than a 70 percent chance of this process is expected to occur. On this basis, the NHC forecast calls for Barbara to increase in intensity to Category 3 or even 4 on the Saffir/Simpson Hurricane Scale within the next day or two. Beyond 3 days, Barbara will encounter cooler waters and gradual weakening should then begin.

Barbara has decreased its forward speed a little, and the best estimate of the initial motion is toward the west-northwest or 275 degrees at 14 kt. The deep-layer mean flow steering the cyclone is expected to weaken further, and this should result in an additional decrease in the hurricane's forward speed, but no change in direction. There has been no significant change in the track guidance, and most of the models are still tightly clustered, bringing the hurricane toward the west-northwest through the next 5 days. The NHC track forecast is very similar to the previous one, perhaps a very small shift to the north, but in general, it is basically on top of the multi-model consensus TVCE.

FORECAST POSITIONS AND MAX WINDS

INIT 01/1500Z 11.4N 117.3W 60 KT 70 MPH
12H 02/0000Z 11.7N 119.3W 75 KT 85 MPH
24H 02/1200Z 12.2N 121.7W 85 KT 100 MPH
36H 03/0000Z 12.8N 123.9W 100 KT 115 MPH
48H 03/1200Z 13.5N 125.8W 115 KT 130 MPH
72H 04/1200Z 15.1N 129.4W 105 KT 120 MPH
96H 05/1200Z 17.0N 133.0W 80 KT 90 MPH
120H 06/1200Z 18.0N 137.5W 55 KT 65 MPH