(BIVN) – As forecasted, Tropical Storm Flossie has weakened into a tropical depression, 350 miles east of Hilo, as it moves west near 13 mph. Flossie's maximum sustained winds are near 35 mph and the system is expected to weaken to a post-tropical remnant low Monday night.
The weakening Flossie will move near or over the main Hawaiian Islands Monday and Tuesday, the Central Pacific Hurricane Center says.
The National Weather Service in Honolulu has issued a Flash Flood Watch for the Big Island from Monday morning through late Monday night. Moisture associated with Flossie will move into the islands from the east, and "along with an upper level trough just northwest of the state, will provide the ingredients for heavy rainfall and possible flooding," forecasters said. Total rainfall amounts of 1 to 4 inches are expected, with localized higher amounts.
A High Surf Warning remains in effect for east-facing shores. Surf will be 10 to 15 feet as swells from Flossie will produce hazardous surf through Monday.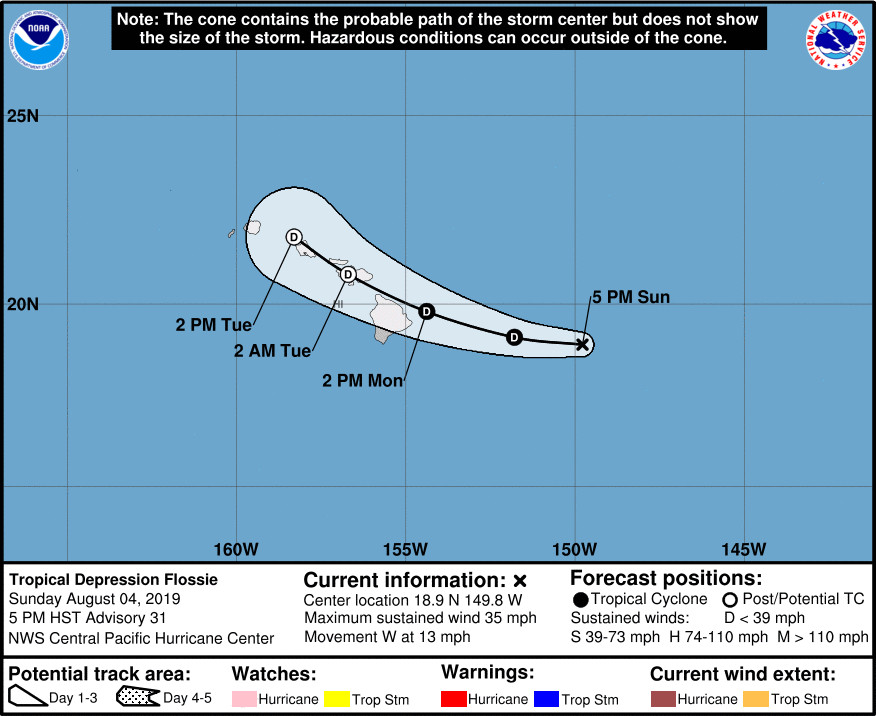 Flossie's continued westward motion "will persist into Monday," the CPHC said at 5 p.m. HST. The motion "gives increased confidence that the weakening system is becoming shallow and under a greater steering influence from the low- to mid-level ridge to the north. As the ridge weakens, Flossie is forecast to turn toward the west-northwest late Monday and remain on that motion near or over the main Hawaiian Islands until dissipation. The forecast track is nudged slightly south from the prior advisory and remains close to the ECMWF and HWRF near the middle of the guidance envelope."
Earlier today, the Hawaiʻi County Civil Defense agency announced the closure of Onekahakaha Beach Park in Keaukaha due to dangerous surf conditions.
The Hilo Bayfront Parking lot on Kamehameha Avenue also remained closed, until further notice. The Hele-On buses will continue to pick-up passengers behind the Afook-Chinen Civil Auditorium, officials said.