(BIVN) – A new tropical depression has formed and has moved into the Central Pacific Basin.
Tropical Depression Twelve-E is currently 1,085 miles east southeast of South Point and is forecast to strengthen as it moves west, possibly becoming a tropical storm on Thursday, the National Hurricane Center reported this morning.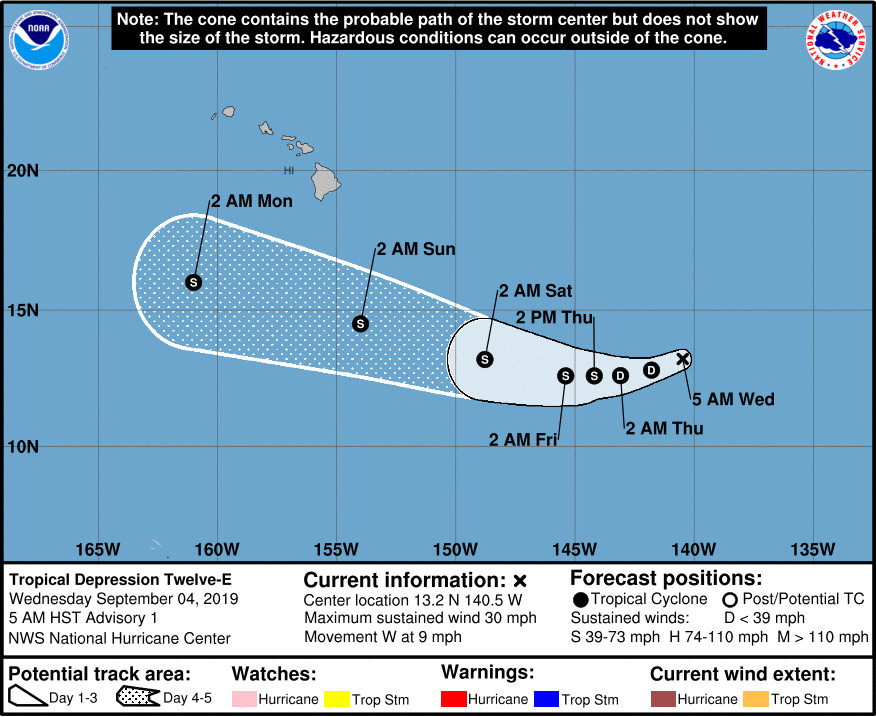 According to the 5 a.m. NHC discussion:
A small well-defined low pressure system quickly developed late yesterday and early this morning over the far western portion of the eastern North Pacific. Beginning around 0600 UTC, a large increase in convection was noted with the low, and convection has continued to increase since then. AMSR-2 imagery at 1030 UTC showed that the convection is fairly well organized in bands, enough to designate the system as a tropical cyclone. Advisories have therefore been initiated on Tropical Depression Twelve-E. The initial intensity of the depression is 25 kt, based on ASCAT data from early this morning.

The track forecast is based on a blend of the explicit low positions in the GFS, ECMWF, and UKMET global models. All of these models forecast that the depression will move generally westward for the next 3 days, followed by a turn toward the west-northwest, steered primarily by a low- to mid-level ridge located to the north of the depression. There is a fair amount of difference in those models regarding the speed at which the depression will move west, and this appears to be the largest source of uncertainty in the forecast. The confidence in the track forecast is quite low for this initial advisory, but hopefully will increase with subsequent forecasts.

The depression appears to be located within an environment that will support at least slow strengthening. In fact, the GFS, SHIPS and ECMWF-based SHIPS models all call for strengthening at varying rates. Strong shear to the north and northwest of the depression could be a limiting factor in a few days, especially if the depression moves farther north than currently expected. The NHC forecast accordingly calls for slow strengthening through 96 h. More intensity guidance will be available with the next advisory, and users should keep in mind that large changes may be required to the intensity forecast based on that guidance. Confidence in this aspect of the forecast is also lower than usual.
Since the storm system has moved into the Central Pacific, the next advisory will be issued by the Central Pacific Hurricane Center in Honolulu.