(BIVN) – Mayor Harry Kim has yet to finish his "path forward" plan for Mauna Kea, but on Thursday in Hilo he gave the Office of Hawaiian Affairs a preview of the ideas that officials hope will ease tensions at the base of the mountain, where the standoff over the Thirty Meter Telescope continues.
"I was hoping that by this morning I would finish what I wanted to give to the Governor," the Mayor told the OHA Trustees, "making you the first body to receive my finish assignment."

In July, after the state failed to clear a path through TMT opponents to enable construction crews to ascend the Mauna Kea Access Road, Governor David Ige handed the job of finding a way forward to Mayor Kim. 
"Not a joke, but on this it says version 109," Kim said about the pamphlet he was holding, a reference to the number of revisions his Mauna Kea statement has undergone over the last few years in which he has been working on it. "And it's not the last. I will finish it hopefully this week, because that was the time frame that I thought I could finish it."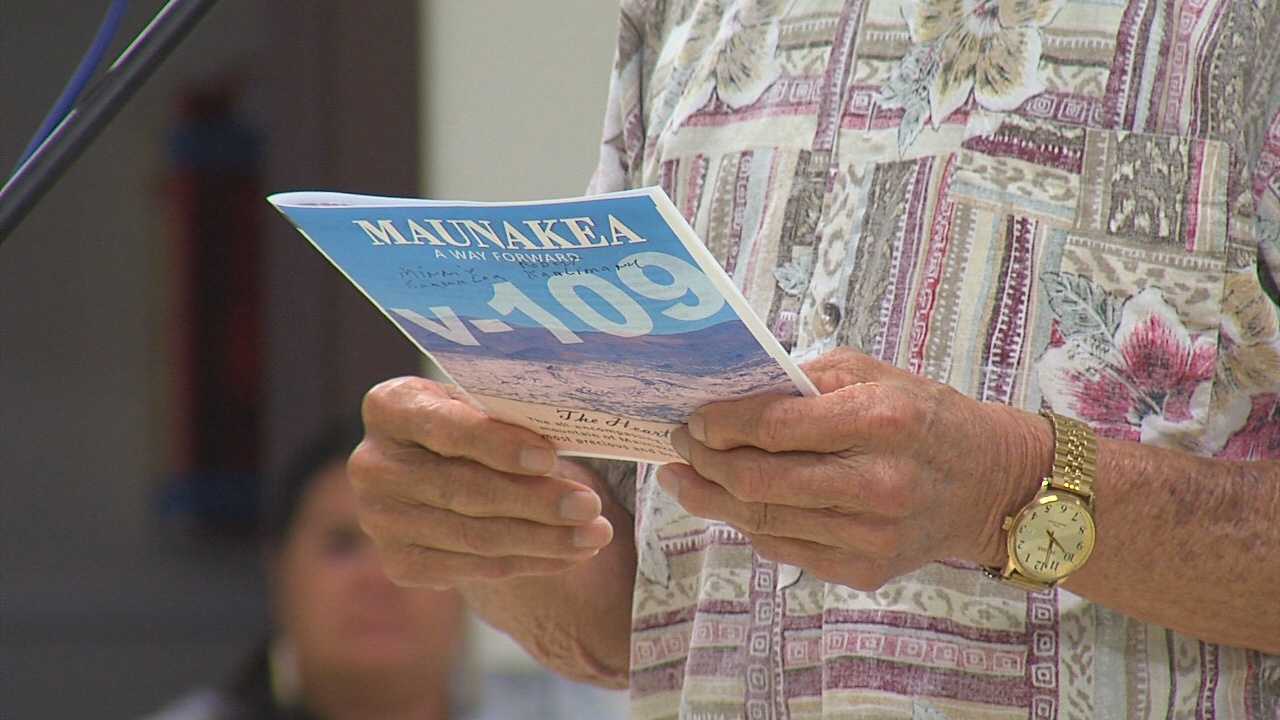 "This presentation is beyond a yes-or-no of the TMT project," Kim said. "This is about asking Hawaii's people to come together and find a no path to go forward in a good way."
Kim read from his paper:
In recent years, the Hōkūleʻa gave birth to a phenomenal Hawaiian cultural renaissance, reigniting the Hawaiian's desire to discover, grow, and explore new frontiers, with the pride, the wisdom, and courage of their elders. In recent months, Mauna Kea has added to this remarkable Hawaiian cultural Renaissance. The Hawaiians identity and the pride of being Hawaiian, and with this the reverence, the sacredness, for the total environment. When respectfully integrated with a comprehensive understanding of Mauna Kea and Hawaiian culture, astronomy can be such a catalyst for positive and transformational changes in Hawaii. Under the leadership of dreamers, innovators, and an awakened community, this can be the leverage for not only Mauna Kea issues, but to understand and address wrongs of past to make us a better people and place.
Kim also listed the initiatives that he felt "can be addressed to make us a better people", such as to "create a cultural center to protect and preserve the historical and cultural specialness of Hawaiʻi and its people."
"Of management, which I know OHA is very involved in," Kim added, "establishing an umbrella management authority that gives strong deference to the voices of the host island and the Hawaiian community. And I think you know how important that is."
"This, hopefully, will be something that is positive," Kim said of his nearly-completed plan. "Because what is happening, I think, is something nobody wants; a polarization of the people of this land."
Mayor Kim was one of many testimonies shared during OHA's "community concerns" segment of Thursday's meeting. Big Island Video News will be featuring more of the testimonies.