(BIVN) – Hawaiʻi County Mayor Harry Kim has completed and released the anticipated "Way Forward" on Mauna Kea statement, as the standoff over the Thirty Meter Telescope project continues.
The 14-page booklet, entitled The Heart of Aloha, Maunkea, a Way Forward, was put together by Mayor Kim after Governor David Ige handed the situation off to the mayor back in July.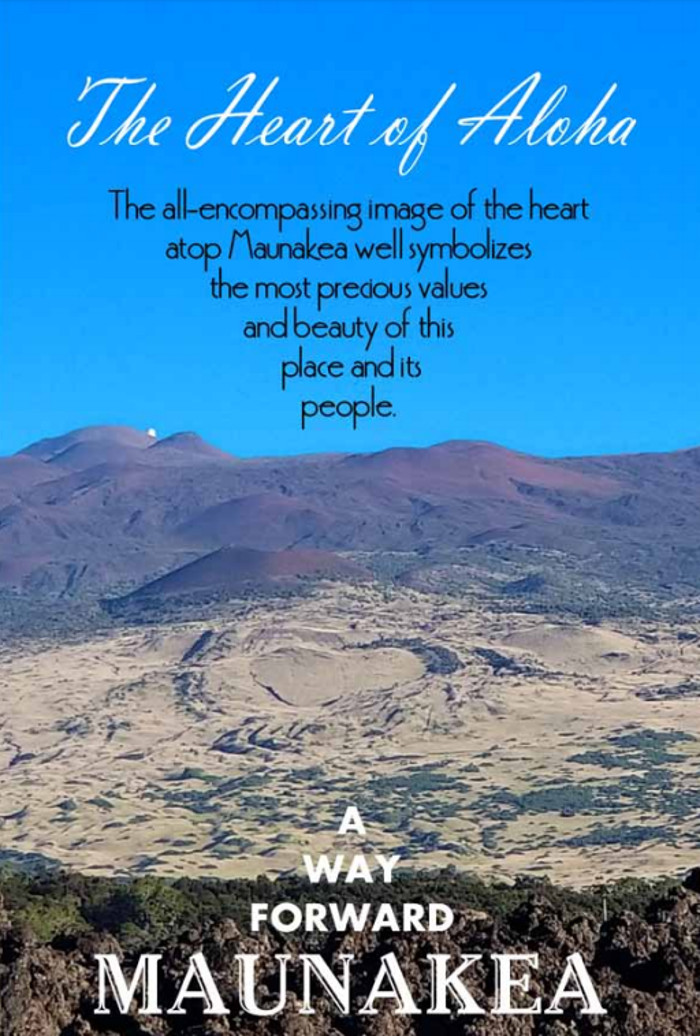 Although the booklet claims to be "beyond a 'yes' or a 'no' of the TMT project", the document's "responses" to a list of "issues of astronomy on Maunakea" assumes TMT will go forward, renewing the commitment that "if TMT is built, there will be no more than nine telescopes beyond 2033", and that "the University of Hawaiʻi has made a legally-binding commitment that the TMT site will be the last new area to be developed for observatories."
The booklet contains a section entitled "our pledges", in which Governor David Ige (on September 12, 2019) said he "will administratively restructure the management of Maunakea to include representation by the Hawaiian community and by County government, while working with the Legislature for permanent restructuring of management." UH President David Lassner likewise agrees to the pledge "to restructure a collaborative approach to stewardship of the mauna as articulated by the UH Board of Regents."
The booklet also pledges Hawaiian Home Lands "Housing Support". Governor Ige says, "I commit to work with DHHL and the Legislature to seek additional resources to increase housing on DHHL lands," while DHHL chair William Ailā says: "We will work with Hawaiʻi County and other state agencies to expedite approval of DHHL subdivisions. We will provide innovative homestead opportunities, such as subsistence agricultural awards, tiny homes, and other efforts, to put beneficiaries on DHHL land."
Here are pages 1-14:
The back cover of the booklet ends with a familiar set of vision statements and initiatives, similar to those which the mayor has been sharing for several months.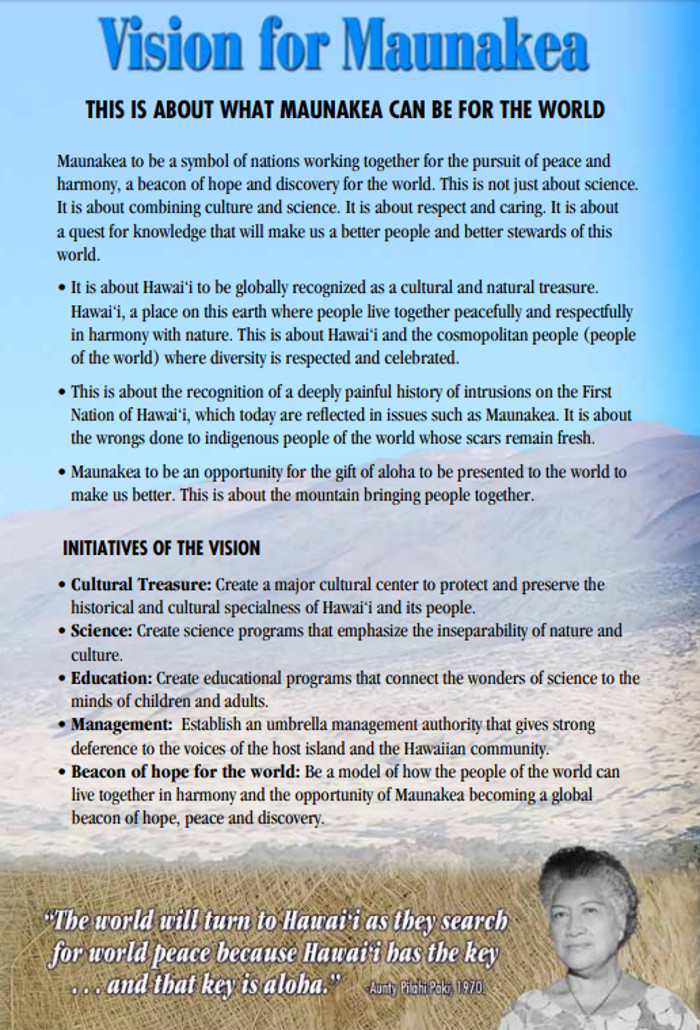 Missing from the document is a statement from the opponents of the TMT project, who have said that any plan that keeps the $1.4 billion observatory on the table is non-negotiable. Big Island Video News will share their response if and/or when it is provided.
"The governor asked Mayor Kim to take the lead in reaching common ground with the protesters and the broader community," said Cindy McMillan, the Communications Director for Governor Ige. "This brochure reflects the mayor's leadership in this effort. Mayor Kim's 'Way Forward' provides historical context for today's situation and responds to the most frequently heard concerns about the TMT project. Gov. Ige will continue to work with Mayor Kim and others to achieve a better future for all."
"Mayor Kim's path is consistent with the Board of Regents' resolution affirming collaborative stewardship and University of Hawaiʻi commitments," responded UH President David Lassner. "We need ideas for ways forward like these that can help shift thinking to paths in which there will be wins for all the people of Hawaiʻi—Hawaiians and non-Hawaiians alike. UH stands ready to work with any and all interested in forging a peaceful way forward, whether or not they believe TMT belongs on Maunakea."
"We are looking for a way forward," said Gordon Squires, TMT Vice President for External Relations. "The pathway, however, has been unclear and it requires leadership. Mayor Harry Kim's 'Way Forward' addresses a number of the larger issues beyond TMT for which Maunakea has become a flashpoint, including issues related to self-determination and management of Maunakea. We are open to working with Mayor Kim and others on these larger issues and getting to the next step as soon as possible."
"We thank the Mayor for his leadership in identifying a better path forward with TMT," wrote astronomer Thayne Currie, an admin for the Yes2TMT Facebook group. "We hope for a rapid implementation of the Mayor's plans and the start of construction of TMT on Mauna Kea."