UPDATE – (9:50 p.m.) – The Flash Flood Warning for Kaʻū has been extended until 1 a.m. on Saturday, February 18th.
(BIVN) – Heavy rains continue to soak the Kaʻū district on Hawaiʻi island, where a Flash Flood Warning has persisted for most of the day.
"At 8:58 p.m. HST, radar showed heavy showers repeatedly forming over the southeast slopes of Mauna Loa, with rainfall rates between 1 and 2 inches per hour leading to significant runoff," the National Weather Service reported.
Highway 11 was still closed as of Friday evening due to flooding. Wood Valley Road and Kaʻalaiki Road were also closed.
Emergency shelters will remain open through the evening, County officials say. From a news release: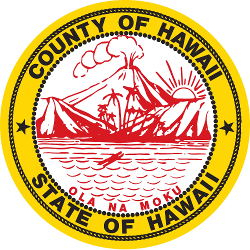 Hawaiʻi County news release
on February 17, 2023
Two emergency shelters in Kaʻū will remain open through the evening as active flooding and heavy rains continue to inundate the region. The shelters are located at the Nāʻālehu Community Center and the Robert Herkes Gymnasium in Pāhala.
According to the National Weather Service, the County of Hawaiʻi is currently under a Flood Warning, indicating flash flooding in the Southern and Eastern parts of the island.
Additionally, the State Department of Health has issued a Brown Water Advisory for the Island of Hawai'i. The public is advised to stay out of flood waters and stormwater runoff due to possible overflowing cesspools, sewers, manholes, pesticides, animal fecal matter, dead animals, pathogens, chemicals, and associated flood debris.
The Waipiʻo Valley Access Road remains closed due to the early onset of the weather system, and more closures are expected in the coming days. The areas expected to see the most severe impacts are Kaʻū, Puna, and Hilo, including areas along the Hāmākua Coast to Waipiʻo Valley. West Hawaiʻi will also be impacted due to continued convection from the storm.
Road crews, utilities, Fire, and Police stand ready to address impacts caused by the anticipated weather as they occur to ensure public safety. Shelters have been identified in varying locations in the event that they become necessary.
The County has not requested the cancellation of any planned outdoor events or activities at this time but reminds residents that closures and/or cancellations may be necessary with little to no notice, pending the severity of the weather impacts.
Camping permits may also be terminated if necessary. The Department of Parks and Recreation will make that determination in real-time and contact permittees accordingly.
Officials will continue to monitor the situation and update the public as necessary.
The public can access information in real-time on the County of Hawaiʻi Civil Defense Hazard Map or via the County's mobile application, Kāhea, which is available on both Android and iPhone.