(BIVN) – The National Weather Service has posted a summary of the February 2023 flooding produced by two kona lows off Hawaiʻi.
From the summary:
Two kona lows developed near the main Hawaiian Islands over the past week, resulting in heavy rainfall and flash flooding in several areas.

The initial bands from the first kona low started moving over the Big Island late on Thursday, February 16, then intensified on the morning of Friday, February 17. In the Kau District, Highway 11 at Kawa Flats, Wood Valley Road, and Kaalaiki Road closed due to flooding. Several flood prone roads in Hilo and the Puna District also closed.

Heavy rainfall also affected the windward slopes of the Koolau Range on Oahu, and the east- and southeast-facing slopes of Haleakala on Maui around the same time as the Big Island flooding impacts. No significant impacts were reported on either island.

Rainfall continued over the Big Island through Friday night, then intensified early Saturday morning. Automated rain gages at Hilo Airport, Mountain View, and Kapapala Ranch recorded rates greater than 3 inches per hour, which kept existing roads closed and resulted in additional closures in the Puna District. A band of heavy rainfall from the southeast also affected the island of Kauai on Saturday. Flooding from this rainfall closed Maalo Road and stalled multiple vehicles near the Waimea Falls Lookout. Hauaala Road at the "Cement Bridge" also closed due to the overflow of Kapaa Stream. Water levels in Hanalei River and South Fork Wailua River became high, but peaked before causing impacts. On Saturday night, rainfall over the Big Island slowly diminished, allowing runoff levels to finally decrease.

The initial kona low dissipated and produced a needed break from flooding on Sunday, February 19. However, this break was short-lived as a new kona low developed to the northwest of the state. This second low was farther west than the first one, and the heaviest rainfall occurred mainly over Kauai and Oahu. Hanalei River once again overflowed and closed Kuhio Highway on the night of Monday, February 20. The highway remained closed during most of the day on Tuesday. Rainfall also occurred over the slopes of the Kau District on the Big Island on Monday. While amounts were not too high, the already saturated ground resulted in another episode of flooding that closed Highway 11 at Kawa Flats.

The following are notable rainfall totals for the 3-day period ending at 8 AM HST, February 19. All amounts are in inches. These totals are considered preliminary for information purposes only.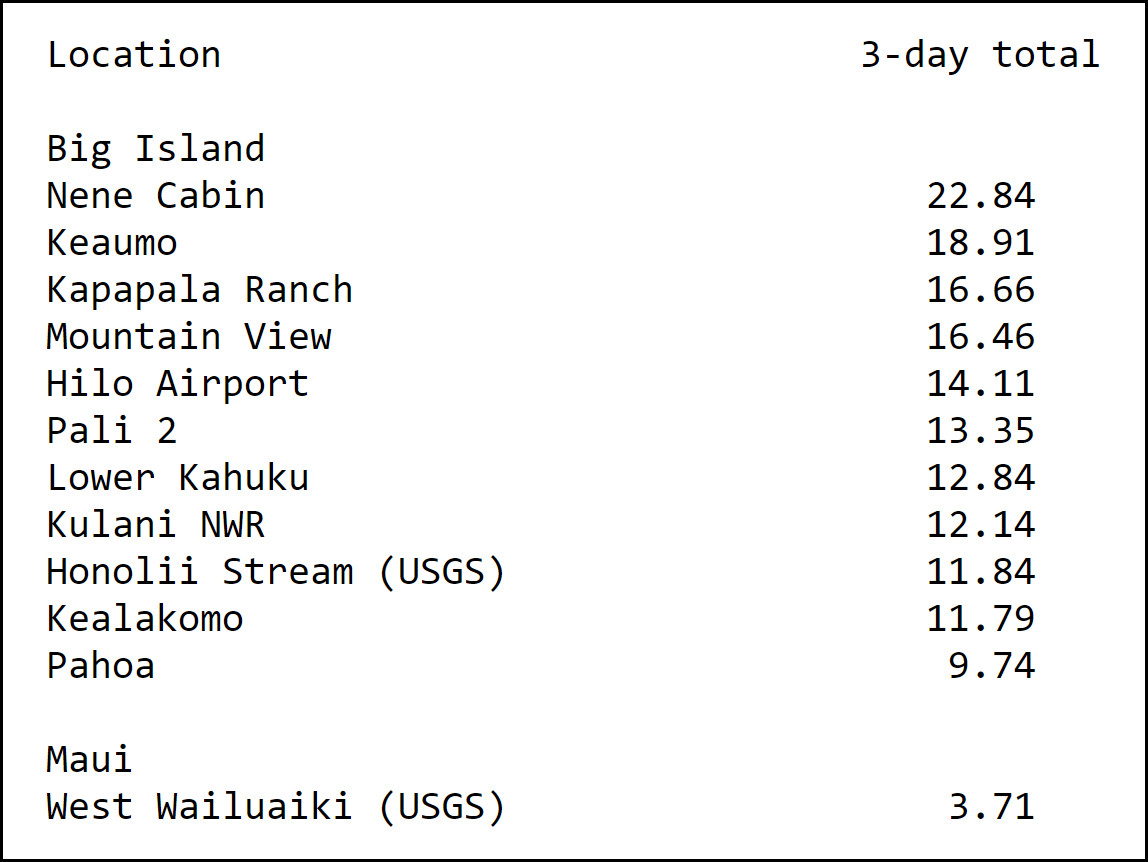 The National Weather Service added that notable (preliminary) rainfall totals from the second kona low, for the 24-hours ending at 8 AM HST, February 21, included 3.68 inches at Honoliʻi Stream, 3.16 inches at the Saddle Road Quarry, 2.57 inches at Kapapala Ranch, and 2.23 inches at Keaumo.