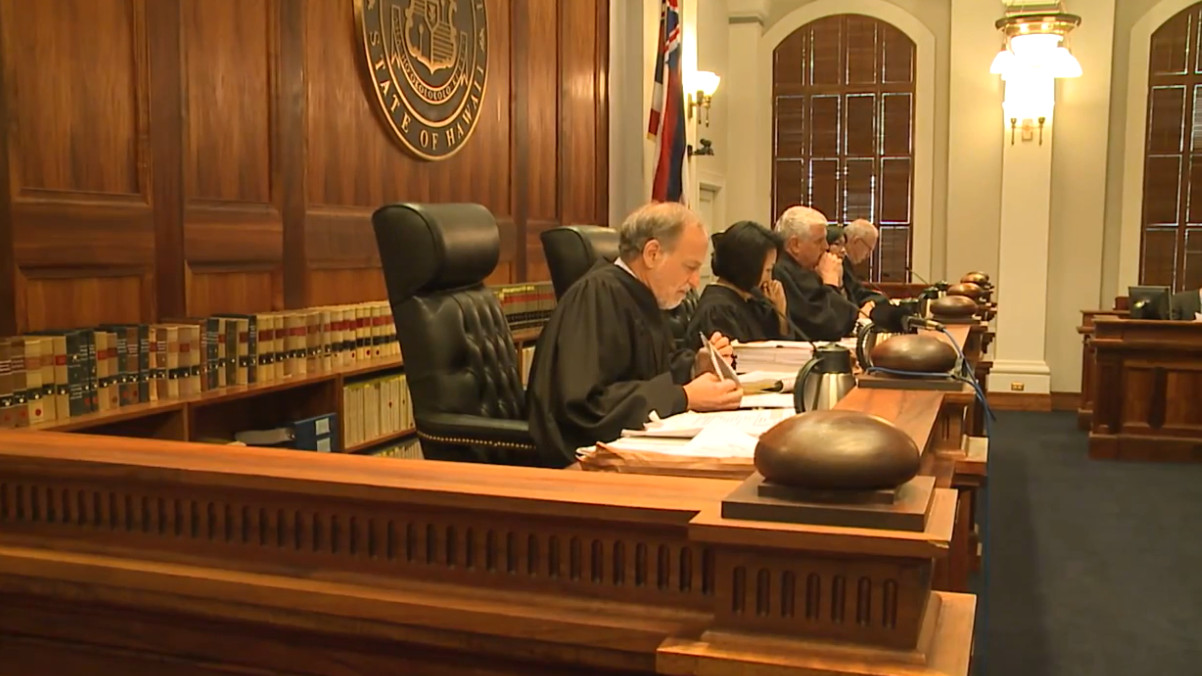 MAUNA KEA, Hawaii – The Hawaii State Supreme Court has granted a last minute Emergency Motion for Stay Upon Appeal, filed by opponents of the Thirty Meter Telescope project, putting a temporary suspension on the observatory's Conservation District Use Permit.
Aloha 'Aina advocates were gathering in defense of Mauna Kea when today's news came down from Honolulu. TMT planned to send a small crew to the contentious construction site on the northern plateau of the summit in order to do maintenance and equipment repair. Local law enforcement was gearing up to ensure the TMT crews had safe access to the summit area.
Last night, attorney Richard Naiwieha Wurdeman, representing the appellants in the ongoing supreme court case (Mauna Kea Anaina Hou, Clarence Kukauakahi Ching, Flores-Case Ohana, Deborah J. Ward, Paul K. Neves, And Kahea: The Hawaiian Environmental Alliance) filed the emergency motion with the court in a last ditch effort to stop the ascent.
Wurdeman's argument, in part:
portion of PETITIONERS' EMERGENCY MOTION FOR STAY UPON APPEAL
FILED November 16, 2015

Following oral arguments and almost three months having passed since oral arguments were held before this Honorable Court, TMT International Observatory, just last week and while the Decision of this Honorable Court is still pending after extensive arguments before this Honorable Court on August 27, 2015, inexplicably announced that it was all of a sudden going to resume construction this month…. In fact, in a news announcement today, that commencement of construction activities at Mauna Kea is planned for Wednesday of this week, November 18, 2015… Interestingly, Henry Yang, Chairman of the TMT International Observatory Board of Governors, was quoted in the news release last week saying that TMT was moving forward with construction plans at Mauna Kea "while respectfully awaiting the Supreme Court's decision."

This Honorable Court has not yet entered its decision and TMT is doing anything but being respectful to this Honorable Court with its decision at this point to go forward with construction when a decision has not yet been rendered. Further, TMT has no respect, nor conscience to the Conservation District and Mauna Kea, and, of tremendous significance, no respect, nor conscience to the public safety of the large number of protectors, who will undoubtedly be responding to the TMT announcement, law enforcement personnel, and others, in a potential faceoff on Wednesday, because of TMT's blatant disregard for the legal process and the major decision that is still pending before this Honorable Court. It is because of this blatant disregard and disrespect of the legal process by TMT, and this Court's decision that is still pending following the oral argument that was held on August 27, 2015, that this Emergency Motion for a stay is being brought. While TMT Observatory International Corporation is not a party to the instant case, despite the Petitioners arguments in their opposition to the motion to file an amicus brief that was filed by the Regents of the University of California and the California Institute of Technology about the real party in interest in these proceedings, and cannot be enjoined from moving forward with construction, the effectiveness of the Conservation District Use Permit that was obtained by the University of Hawaii at Hilo on TMT's behalf, the Petitioner's respectfully submit, can be suspended and stayed as well as the orders and judgments referenced above, rendering any construction by TMT, without an effective and a suspended CDUP, illegal.
The court granted the motion, in part. In a order issued today (Nov. 17), the court wrote:
portion of SUPREME COURT ORDER
ISSUED November 17, 2015

Upon consideration of Appellants' Emergency Motion for Stay Upon Appeal filed on November 16, 2015, IT IS HEREBY ORDERED that this motion is granted in part. The Conservation District Use Permit HA-3568 is temporarily stayed until Wednesday, December 2, 2015, or until further order of the Court.

IT IS FURTHER ORDERED that any response to said motion shall be filed no later than 4:30 p.m. on Tuesday, November 24,2015.