(BIVN) – A joint State House committee recently advanced a bill that would ban the import, use, manufacture, sale, and storage of chlorpyrifos in the Hawaiʻi.
Before the 2018 legislative session began, House Agriculture Committee Chair and Hawaii Island Reprentative Richard Creagan said he would be be taking a tough stand against the harmful pesticide.
"Chlorpyrifos is a very potent, dangerous pesticide / insecticide that is related to sarin gas," Rep. Creagan told the Hawaii County Council before the session. "The acute toxicity of the two are the same. They'll kill you the same way. Now, it's a little safer than sarin gas, in terms of acute toxicity. But you know, it works the same way."
"The other thing that chlorpyrifos does is it causes injuries in the fetus," Creagan, who is also a physician, added. "Severe injuries. That's called a teratogenic effect. That was recognized here in the United States, in New York, when chlorpyrifos was used extensively through the buildings and apartments for roaches and other insects. So the (U.S. Environmental Protection Agency) actually banned it for indoor use in 2001. Europe was slower, but they've now banned it entirely except for one tiny use."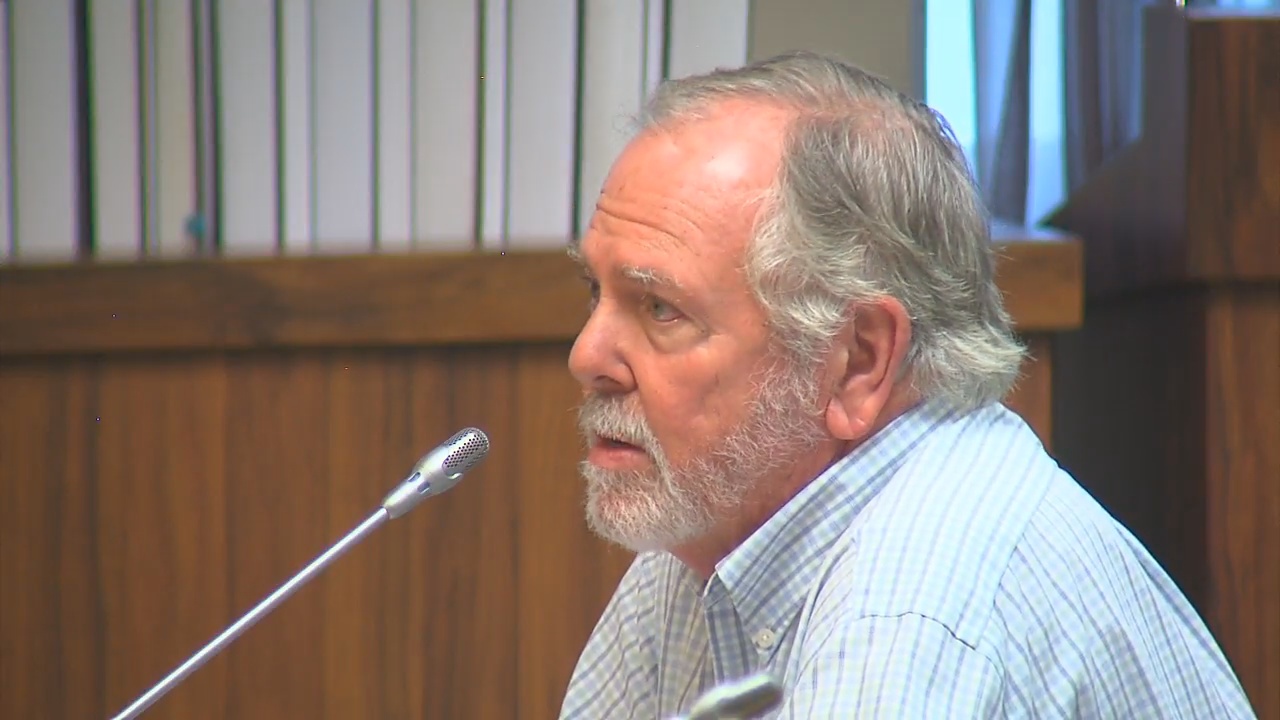 "Our island actually uses more chlorpyrifos than Kauai does, even with all the seed corn companies," on Kauai, the state representative said. "There are safer things. There are replacement things for this, that are safer."
"The EPA was opposed the band chlorpyrifos," entirely, Creagan said, but because of President Trump's appointment of Scott Pruitt to head the EPA, "the ban was stalled."
"Of course, Dow Chemical, the maker of chlorpyrifos, donated a million dollars for Trump's inauguration fund," Creagan said, "and the head of Dow was going to head up an industry advisory group. You know, all those things that are not very appealing about our current administration."
"I plan to re-introduce that that bill this year, because the EPA didn't (ban) it," Creagan told the council in Deceber. "Last year, (the state legislature) said we're not going to pass (a ban) because the EPA is gonna do it. So I'll reintroduce that."
There is now a bill moving through the House:
HB1756 HD1: RELATING TO PESTICIDES

Bans import, use, manufacture, sale, and storage of chlorpyrifos in the State. (HB1756 HD1)

Introducers: CREAGAN, GATES, ING, KOBAYASHI, C. LEE, LOPRESTI, LOWEN, MCKELVEY, SOUKI, THIELEN, Brower, Evans, San Buenaventura, Takayama
At a February 8 hearing before the House Committees on Agriculture and Energy & Environmental Protection, lawmakers heard plenty of testimony on the bill.
"The Farm Bureau hopes that our state will be prepared for the consequences of proceeding with further restrictions and bans in the absence of science and evidence," said Janet Ashman, speaking on behalf of the Hawaii Farm Bureau at the hearing. "For example, are we prepared to lose the use of glyphosate to control invasive species that are destroying our watersheds? Are we prepared to lose highly toxic termite pesticides that we gas our homes and offices with, so we don't lose our buildings to termites? Are we prepared to get sick from our own drinking water, not because it has pesticides in it, but because it doesn't? Yes, we put chlorine in our surface water to use for drinking water – and chlorine is a restricted use pesticide – to protect us from pathogens. And finally, are we prepared to lose commercial agriculture in Hawaii with the food, flowers and many other products – and the beautiful vistas that even our tourists come here to see?"
"These are the reasonable outcomes, if we're ignoring scientific evidence," Ashman said.
In written testimony, Hawaii Farm Bureau president Randy Cabral went into specific detail about their opposition to HB 1756:
HFB respectfully opposes this bill for the following reasons:

HDOA is already addressing concerns about chlorpyrifos. The agency is in the process of mandating further restrictions on the pesticide. Last month, the Board of Agriculture approved making all formulations of the pesticide "restricted use." That designation will make it impossible to purchase or use chlorpyrifos without a DOA-certified applicator license. Other use restrictions will also be implemented by DOA.

Chlorpyrifos is registered by the U.S. EPA after thorough vetting for safety. EPA has the expertise to evaluate pesticide products and conducts comprehensive evaluations and periodic re-evaluations of each pesticide before allowing it to be sold and used.

EPA's decision not to ban chlorpyrifos and the decision to continue the review of the pesticide was upheld by the 9th Circuit Court of Appeals in San Francisco. There had been significant scientific concerns, including that of EPA's own Scientific Advisory Panel regarding the methodology used by the previous administration's EPA and its reliance on controversial data the agency had used to support its proposal to ban the pesticide.

California has conducted its own independent risk assessment on chlorpyrifos and is not banning it.

1.) California's risk assessment reflects its most current scientific understanding and comprehensive data review of potential for toxicity to humans, including short-term, acute and aggregate exposure, and bystander exposure.

2.) California has the most stringent pesticide regulations in the nation; its pesticide department includes 6 pesticide program branches with approximately 400 employees

3.) California has collected extensive monitoring data (air, surface water, etc.) focusing on areas where chlorpyrifos use is highest.

4.) California farmers use about a million pounds of chlorpyrifos per year, much more than Hawaii farmers.

5.) In California, chlorpyrifos is also applied by airblast and aircraft, with significantly greater potential for offsite movement than ground applications.

Chlorpyrifos is available to farmers to use in every state. If arbitrarily banned in Hawaii, it would put our farmers at a disadvantage compared to mainland farmers.

As part of an Integrated Pest Management program, farmers in Hawaii use this product because it is effective and critical in controlling damaging insects that destroy their crops.

Monitoring studies at Waimea Canyon Middle School, and other Kauai locations, show that the air quality is well within the strict health-based screening levels established by regulatory authorities.
At the same hearing, Hawaii Center for Food Safety advisory board member Autumn Ness, countered with some of their own information.
"First, I want to just illustrate that what happened on Kauai with the chlorpyrifos exposure to farm workers is not an isolated incident at all," Ness said. "In May of last year, there were 37 out of 48 cabbage pickers in Kern County, California that were exposed to chlorpyrifos and fell ill. In that event, which was confirmed by the Kern County Ag Commissioner – I called them yesterday – some of the workers began fainting and vomiting, and a few of them received medical attention. The frightening part about this situation is the incident happened a half a mile from where the pesticide was being applied, which is also in violation of California pesticide law. The incidents in Kern and Kauai County were acute exposure incidents and they were easily identifiable."
"But this same chemical we are allowing for use here," Ness continued, "it's been recognized by the EPA and the National Institutes of Health as causing autism, diminished IQ, ADHD when our children and pregnant mothers are exposed, in very low levels. Our own DOA has found it in air samples at Waimea Canyon Middle School."
Ness said the use of the pesticide "around our schools, our communities and on our food… is unacceptable."
"For me, there's no additional reasoning necessary to ban chlorpyrifos than that," Ness said. "Even at small amounts. I mean, listen to this," Ness said, reading from her notes. "It permanently affects, reduces cognitive capacity and causes developmental delays, and it's found in the air at our schools. You know, if you don't agree, let's see if you can send your children to one of those schools where we find chlorpyrifos in the air and see if your mind changes about that."