Hilo, Hawaii – Video by David Corrigan

Keaukaha looked like a ghost town by 8:30 a.m. on Saturday morning, as most residents along the Hilo coastal areas have already evacuated to higher ground.
The Big Island of Hawaii joins the rest of the state, awaiting the tsunami waves that are predicted to arrive at 11:00 a.m. Hawaii Time as a result of an 8.8 earthquake that rocked Chile last night.
The Hawaii County Civil Defense Headquarters was packed with emergency personnel from all sectors of government, as departments coordinated preparations and evacuations in the hours before the waves hit.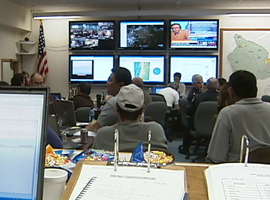 In the above video, Big Island Mayor Billy Kenoi gives us a quick interview – filmed just before 9:00 a.m. – outside the civil defense HQ. In the interview, the mayor assures the island that everyhting that can be done in the moments before the wave's arrival has been done, a process that has been rehearsed under the direction of his administration in recent months. He also warns that residents should not be underestimating the size of the wave and the destructive force it may carry.
The County plans to have everyone in the effected zones evacuated by 10:00 a.m.
The waves are predicted to hit as early as 11:00 a.m.
Estimated wave heights vary depending on the source and the landfall location. Reports of 6 to 12 feet hieghts have been reported.
From the Pacific Tsunami Warning Center:
A TSUNAMI HAS BEEN GENERATED THAT COULD CAUSE DAMAGE ALONG
COASTLINES OF ALL ISLANDS IN THE STATE OF HAWAII. URGENT ACTION
SHOULD BE TAKEN TO PROTECT LIVES AND PROPERTY.

A TSUNAMI IS A SERIES OF LONG OCEAN WAVES. EACH INDIVIDUAL WAVE
CREST CAN LAST 5 TO 15 MINUTES OR MORE AND EXTENSIVELY FLOOD
COASTAL AREAS. THE DANGER CAN CONTINUE FOR MANY HOURS AFTER THE
INITIAL WAVE AS SUBSEQUENT WAVES ARRIVE. TSUNAMI WAVE HEIGHTS
CANNOT BE PREDICTED AND THE FIRST WAVE MAY NOT BE THE LARGEST.
TSUNAMI WAVES EFFICIENTLY WRAP AROUND ISLANDS. ALL SHORES ARE AT
RISK NO MATTER WHICH DIRECTION THEY FACE. THE TROUGH OF A TSUNAMI
WAVE MAY TEMPORARILY EXPOSE THE SEAFLOOR BUT THE AREA WILL
QUICKLY FLOOD AGAIN. EXTREMELY STRONG AND UNUSUAL NEARSHORE
CURRENTS CAN ACCOMPANY A TSUNAMI. DEBRIS PICKED UP AND CARRIED
BY A TSUNAMI AMPLIFIES ITS DESTRUCTIVE POWER. SIMULTANEOUS HIGH
TIDES OR HIGH SURF CAN SIGNIFICANTLY INCREASE THE TSUNAMI HAZARD.

THE ESTIMATED ARRIVAL TIME IN HAWAII OF THE FIRST TSUNAMI WAVE IS

                     1105 AM HST SAT 27 FEB 2010

MESSAGES WILL BE ISSUED HOURLY OR SOONER AS CONDITIONS WARRANT.
 
New Patient Safeguards for Online Drugstore Prescriptions. Part 2