Effort intends to count everyone on the island

Hilo, Hawaii – Video by David Corrigan
The U.S. Census Bureau's Hawaii Counts van kicked off with a short ceremony at the county building in Hilo on Friday.
The van will be touring Big Island communities from March 19-27 to promote the 2010 Census effort, encouraging residents to fill out and mail back their questionnaires.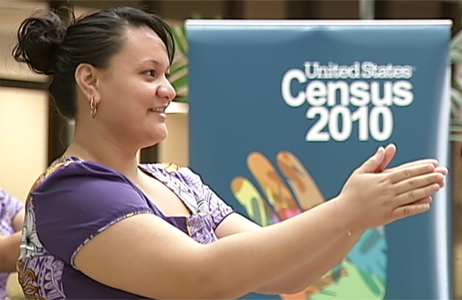 Local residents, who should have already recieved thier questionnaire in the mail (or on their front door, if there is no mailbox) are being encouraged to send the form back by April 1, or "Census Day".
Those involved with the census effort say a complete count of Hawaii Island's population is important because ensures that the county will get its fair share of the $400 billion in federal funding towards community services and infrastructure.
Friday's event gave the public and media a chance to preview the van, and learn about the van's schedule.
Tupulanga O Samoa Mo A Taeao, the UH Hilo Samoan Club, performed at the event, as did Miss Kona Coffee 2010, Wikolia Enos.