Oahu Reps. hold hearing in Hilo on "EPOD" proposal
Hilo, Hawaii – Video by David Corrigan
A large crowd overflowed into the hall at the Old Sun Sun Lau Building on Kinoole Street as Department of Human Services employees, and the residents who utilize the state's services, gathered for a special hearing on the fate of the DHS under a new administrative plan.
The state's House Human Services Committee, chaired by Rep. John Mizuno, held the special meeting in Hilo to discuss solutions for the situation. Mizuno was joined by Rep. Rida Cabanilla, chairwoman of the House Housing Committee, at the meeting. Both representatives are Oahu based Democrats.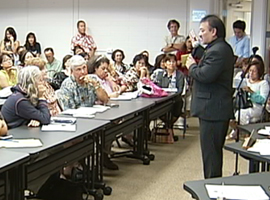 The director of DHS is proposing to create an Eligibility Processing Operations Division, known as EPOD to those it will affect, within the Department. The state says the EPOD would streamline the processing of applications and renewals for public assistance and save taxpayers money. As a result, the state will be able to close 50 eligibility offices statewide, and hundreds of state workers would lose their jobs, saving Hawaii an estimated $9 million.
EPOD is modeled after the ACCESS Florida initiative, which the state says has gained national attention for its efficiency and for satisfaction ratings among both customers and government employees.
The plan has raised fear amongst the employees working under the DHS, as well as those who receive food stamps and other types of assistance. Currently, the Hawaii Government Employees Association stands opposed to the EPOD plan, as the department and the union work on coming to an agreement.
Mizuno told those in attendance that Senate Bill 2650 would block the reorganization effort, and would delay the EPOD in order to have a task force weigh in on the situation. Mizuno said he disagrees with the DHS plan, and even suggested that cases of fraud would increase due to the lack of eligibility workers, who he says provide support to prosecutors as material witnesses in such legal cases.
Mizuno heard from a number of workers and residents at the meeting, including emotional testimony from Albert Nakaji, a local orchid grower who questioned DHS Deputy Director Henry Oliva face to face, a few weeks ago in the same building, as a member of Governor's Council of Neighbor Island Advisors for East Hawaii.