Hawaii Farmers Union invites public for night of music, film and education
Honokaa, Hawaii –
Honokaa will celebrate the 1st International Mother Earth Day on Thursday, April 22 at the Honokaa Peoples Theater.
The Hawaii Farmers Union is inviting the public to participate in the community event that features education, film, hula, music and dance.
A new look at the film, "Towards Living Pono" – shot on the Big Island with Jason Scott Lee that now features local farmers like the Mock Chew family of Waipio Valley, will be shown. Also advertised: a Hamakua Hula Drama with Makua Lanakila Managuil. Special guests will include Council Member Dominic Yagong, and entertainment by great local dance band, Opu Vibes.
According to the Honokaa Peoples Theatre:
The event is a fundraiser for various community groups and non-profits working towards a better local and global relationship with our planet and each other. The majority of the evenings proceeds will go towards supporting the group(s) of your choice, simply by adding your admission ticket stub(s) to the "tip jar" of any organization that is fundraising. In attendence will be representatives from HAWAII HOMEGROWN FOOD NETWORK, HAMAKUA YOUTH CENTER (HYC), HAWAII SUSTAINABLE EDUCATION INITATIVE (HSEI), HUI KALO/TARO TASK FORCE, KOHALA CENTER, HAWAII ISLAND SCHOOL GARDEN NETWORK, PRACTICAL AGRICULTURE HAMAKUA, KAPULENA LAND PROJECT, HAWAII ISLAND LAND TRUST, SURFRIDER FOUNDATION, SLOW FOOD HAWAII, HAWAII FARMERS UNION, and many more to be announced.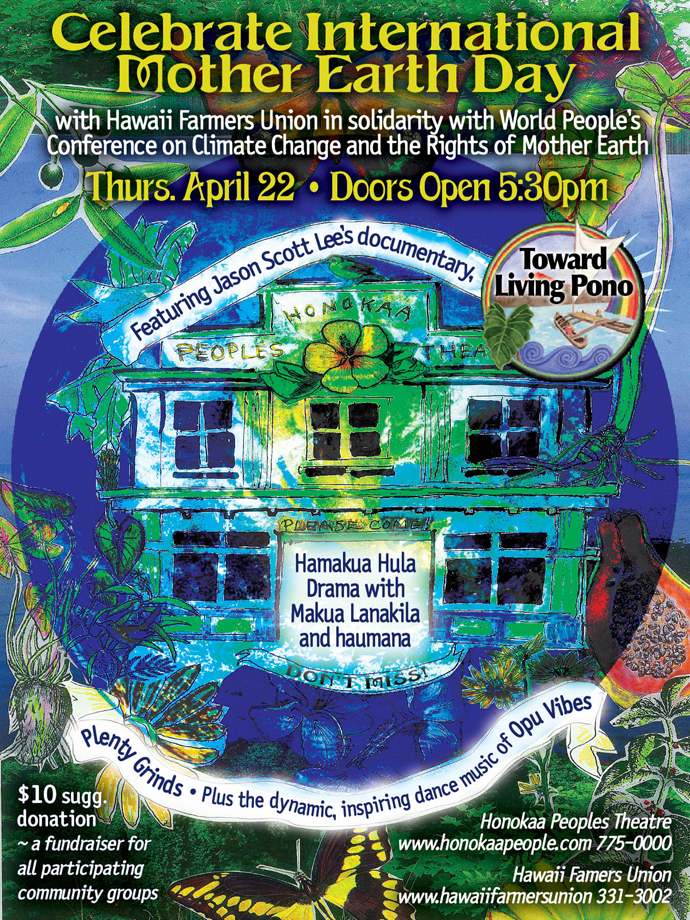 Online Pharmacy, Cheap Prescriptions and Doctor Service. Part 3