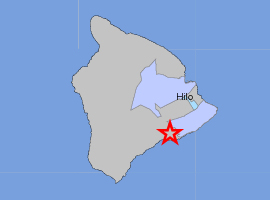 A 3.5 magnitude earthquake shook the east side of the Big Island of Hawaii just before 10:30 pm HST on Monday evening.
The preliminary report from the USGS placed the temblor within Hawaii Volcanoes National Park, about 6 miles west northwest of Ka`ena Point, 8 miles south of Volcano, 8 miles SSE of the Kilauea summit, and 30 miles South SouthWest of Hilo.
The depth of the quake was estimated at 7.1 miles.
The info was computer-generated, and had not yet been reviewed by a seismologist as of 10:32 p.m. HST
The Hawaii County Civil Defense agency quickly issued the statement that no tsunami had been generated from the quake.
New Patient Safeguards for Online Drugstore Prescriptions. Part 2