November 5, 2010 – KULANI, Hawaii
Video by David Corrigan
Governor Linda Lingle travelled to the Big Island of Hawaii on Thursday, where she was joined by Chief of the National Guard Bureau, General Craig R. McKinley, and other dignitaries for the dedication of the new Kulani Youth ChalleNGe Academy.
Officials held a simple ceremony in the on again-off again rainfall that sprinkled the grounds of the former Kulani Correctional Facility, the remote complex located high on the slopes of Mauna Loa at the end of Stainback Highway. Only a brief mention was made of the old Kulani prison and the controversy that erupted when the administration suddenly announced its plans to close the facility in 2009, which made way for the Hawaii National Guard.
The Hawaii National Guard Youth ChalleNGe Academy is a 17-month program based on military values that instills self-discipline in at-risk youth. The administration says the new Kulani facility will help accommodate the growing demand for Youth ChalleNGe programs, especially among neighbor island youth, who currently make up 35 percent of the program's participants. About 3,000 cadets have graduated from the academy since 1994.
According to Major General Robert Lee, Adjutant General for the State of Hawaii, the second of the Youth ChalleNGe Academies (the first is on Oahu) will better serve youth who are looking for a more "hands on" experience in education. As a Correctional Facility, Kulani was known as a place for working the land and polishing skills in trades like woodworking.
Principals from a number of local schools were on hand for the dedication ceremony, as was State House Representative and former Kulani corrections officer Faye Hanonhano.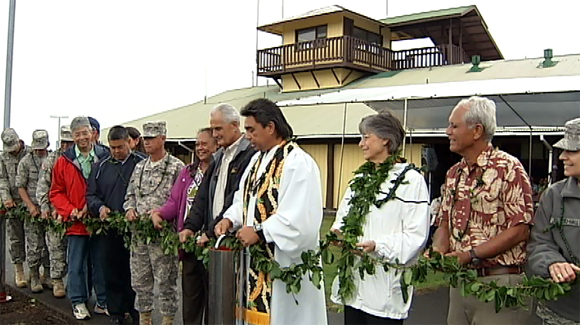 Kulani Youth ChalleNGe Academy dedicated