November 10, 2010 – NAALEHU, Hawaii
Video by David Corrigan | Voice of Stephanie Salazar
The County Council held a public hearing and site visit in the Ka'u District on Tuesday for the contentious Kamaoa Road situation near South Point.
In the afternoon, residents and officials gathered at the head of the public road, within the normally gated entrance, and took public testimony on location.
The council's Finance Committee recently undertook a resolution – submitted by outgoing Ka'u councilman Guy Enriques – to abandon the western end of Kamaoa Road so it can become the dominion of ranchers who use it to access their property.
A vote was postponed in August in order to first hold the hearing and site visit.
At Tuesday's site visit, emotions over the proposed road sale ran high, on both sides of the issue. 5 of the 6 adjacent landowners are in favor of privatizing the road, and it will likely be gated if the transaction is approved. However, some other residents in the area were crying foul over the proposal.
After touring the long dirt road, the Ka'u community gathered in Naalehu to give more testimony.
According to Hamakua Councilman Dominic Yagong, the whole issue may soon be rendered moot. Yagong says that former county planning director Chris Yuen plans to submit a letter to current council chair J Yoshimoto – detailing his research that shows that Kamaoa Road does not dead end at private property as the county previously thought, but instead was a connector from South Point Road to Mamalahoa Highway in the past.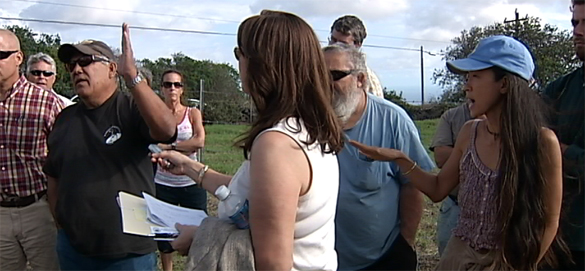 Ka'u community debates Kamaoa Road during Tueday's site visit
New Patient Safeguards for Online Drugstore Prescriptions. Part 2