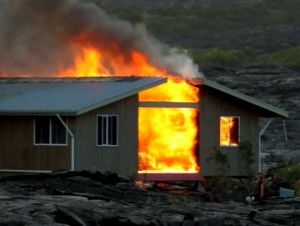 November 29, 2010 – KALAPANA, Hawaii
Video and field report by Leigh Hilbert | Intro by Stephanie Salazar
Lava from Kilauea Volcano destroyed another Kalapana Gardens Home on Saturday night.
The home was vacated, as lava came within three feet of the home by mid afternoon, and by 5:30 lava had reached the home and set it on fire.
Dedicated lava photographer Leigh Hilbert files this report. Hilbert shares the incredible – and as he says, emotional – video footage of the moment the house came down.
The residence belonged to an owner known in Kalapana Gardens as Jean. The USGS' Hawaiian Volcano Observatory reports that the dwelling was the first that was built on lavas that destroyed many Kalapana homes in 1990. A home built just off the edge of the 1990 lavas belonging to Gary Sleik burned to the ground in late July, 2010.
The HVO also says that in "2008 and 2009, when lava flows were active in areas east of Hawai`i Volcanoes National Park, 20 primary structures were destroyed by lava-induced fire – 17 in the abandoned Royal Gardens subdivision and 3 built on 2002 lavas in Kapa`ahu, west of Kalapana."
The USGS also issued this report early Monday evening:
Lava from the TEB vent is flowing through tubes that carry lava down-slope feeding the Puhi-o-Kalaikini ocean entry southwest of Kalapana Gardens and several breakouts on the coastal plain and pali west/northwest of the subdivision.

Lava activity near Kalapana Gardens seems to have declined since yesterday. As of this afternoon, the November 26 breakout has apparently stalled, and the November 20 breakout is producing only minor, scattered lava flows. The November 24 breakout remains active, with lava flows advancing 100 m (330 ft) to the east during the past 24 hours. These flows continue to fill in low areas south of Hwy 130, but lava is not currently posing a threat to structures in Kalapana Gardens.

At Puhi-o-Kalaikini, lava is reaching the ocean at four small-to-medium sized entry points along the front of the lava delta.

Information on the status of the Kalapana lava viewing area is available at 808-961-8093.

Daily updates on Kilauea's ongoing eruptions (summit and east rift zone) will be posted each morning. These will be supplemented by a Kalapana afternoon update when warranted.

Maps, photos, Webcam views, and other information about Kilauea Volcano are available at http://volcanoes.usgs.gov/hvo/activity/kilaueastatus.php.
Leigh Hilbert's blog covering life on the edge of an active lava flow is found here, at hawaiianlavadaily.blogspot.com.