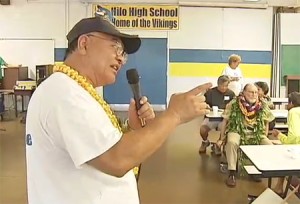 November 30, 2010 – HONOLULU, Hawaii
Rumors that State Senator Dwight Takamine will be joining Hawaii Governor-Elect Neil Abercrombie's administration as Hawaii's labor department head were confirmed on Tuesday.
The Big Island's 1st District State Senator campaigned hard for Abercrombie during his bid for governor, joining him on his visits up and down the Hamakua coast, Hilo, and beyond. As a state lawmaker, Takamine has served on the Senate Labor Committee, and the House Labor and Public Employment Committee, among others. He has a long history of practicing labor-related law in Hawaii, and hails from a well known Honokaa family with strong labor union roots.
Hawaii Island State Senators Russel Kokubun and Josh Green are also rumored to be under consideration for cabinet positions. Those rumors have yet to be confirmed. 
The incoming administration also named Kalbert Young as the Budget and Finance Director.
The incoming administration issued this media release:
Governor-Elect Neil Abercrombie today named Kalbert Young as the Budget and Finance Director; and Sen. Dwight Takamine and Audrey Hidano as the team heading up the state Department of Labor and Industrial Relations as its director and deputy director, respectively.

This is Governor-Elect Abercrombie's second announcement regarding Cabinet positions in the Abercrombie Administration.

"They are a part of our growing team dedicated to our goal of rebuilding our economy to create good-paying jobs during these difficult times while investing in the people of Hawaii," Governor-Elect Abercrombie said. "They are key leaders who will play a pivotal role in building a sustainable economy and strong communities for a New Day in Hawaii."

Governor-Elect Abercrombie is in Washington, D.C. to attend the Democratic Governors Association Annual Meeting tomorrow. Governor-Elect Abercrombie conducted interviews with the appointees over the weekend and confirmed their appointments today.

Similar to yesterday's appointments, the selections come after a process that began with every applicant submitting his or her resume through the transition website, NewDayHawaii.org. The process, led by Abercrombie Transition Director Bill Kaneko, includes input from the community and several rounds of interviews.

KALBERT YOUNG (DB&F) has been the finance director of Maui County since 2004.  He previously worked at the Kapalua Land Co., the state Legislature, and at Kamehameha Schools, where he served in the government relations, budget and financial planning, and internal audit divisions. Mr. Young, 41, was Maui County's first small-business advocate, working in the Office of Economic Development, where he led the effort to establish the Maui County Business Resource Center & County Store at the Maui Mall in Kahului. He attended the University of Hawaii at Manoa, earning a Bachelor's degree in American history and a Master's degree of business administration.

DWIGHT TAKAMINE (DLIR Director) has served in the state Legislature for 26 years, representing Hilo, Honokaa and Waimea. Sen. Takamine was first elected to the state House of Representatives in 1984 and later elected to the State Senate in 2008. He served as chairman of the Senate Labor Committee, House Labor and Public Employment Committee, House Finance Committee and House Water and Land Committee. Sen. Takamine, 57, spent 30 years practicing law in Hawaii with a general focus on labor-related cases. Sen. Takamine graduated from Honokaa High School, UH-Manoa and William S. Richardson School of Law.

AUDREY HIDANO (DLIR Deputy) has worked in Hawaii's construction and business industry for almost 40 years. Ms. Hidano, 65, co-founded two construction companies, including the Hidano Construction, Inc. in 1974 that specializes in residential and light commercial construction and Rim-Pac, Inc. in 1993 that specializes in solid surface work. Ms. Hidano previously held the position as the deputy director of the state Department of Labor and Industrial Relations from 2000 to 2002. Ms. Hidano was also the president of the Building Industry Association of Hawaii from 1999 to 2000. She is a graduate of McKinley High School and Honolulu Business College.