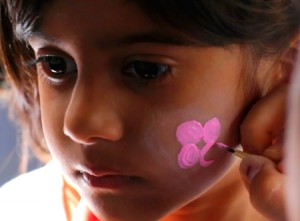 November 30, 2010 – HILO, Hawaii
Video courtesy Hawaii County Office of the Mayor | Voice of Stephanie Salazar
It's beginning to look a lot like Christmas in Downtown Hilo. This weekend, the holiday spirit was in full swing at the free "A Family Christmas Downtown!" at the historic Palace Theater.
Presented by the Hilo High School Key Club, the Palace Theater, and the County of Hawaii, there were lots of activities for children, including Christmas craft-making, games, prizes, informational exhibits, Keiki ID, cartoons and a free Christmas movie.
The feature film 'The Polar Express' was also shown. There was Christmas caroling and a food concession to make this a festive family affair.
Haili Street was closed and transformed into a plaza to accommodate this family event.