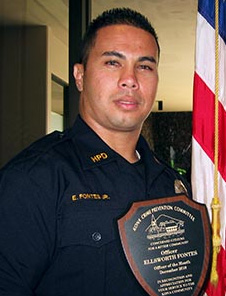 December 2, 2010 – KONA, Hawaii
By Stephanie Salazar
The Kona Crime Prevention Committee recognized Hawaii County Police Officer Ellsworth Fontes as "Officer of the Month" for December.
Lieutenant Nancy Haitsuki nominated Fontes because of what she called his "keen persistence" in solving a burglary at a Kailua Kona buisness.
Based on surveillance videos five days after the burglary Fontes recognized two suspects during a traffic stop of a pickup truck. Both men were arrested and Fontes obtained additional information linking them to the crime.
"Due to his diligence, he was able to apprehend the responsible parties within five days of taking the call," said Lieutenant Nancy Haitsuka, who nominated Fontes for the award. "This case is just one of the many examples of Officer Fontes' exemplary performance as he models our department's core values of integrity, professionalism, compassion, teamwork and community satisfaction."
As "Officer of the Month," Fontes is eligible to become "Officer of the Year."
The Kona Crime Prevention Committee is an organization that encourages community involvement in aiding and supporting police in West Hawaii.
New Patient Safeguards for Online Drugstore Prescriptions. Part 2