Powerful planned observatory seeks conservation district use application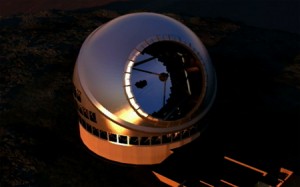 December 2, 2010 – HILO, Hawaii
By Stephanie Salazar
The state Department of Land and Natural Resources will hold public hearings tonight at the county council room in Hilo and tomorrow at the Natural Energy Lab in Kona, on a conservation district use application for the proposed Thirty Meter Telescope (TMT) at the Mauna Kea Science Reserve.
The telescope would be built by the non profit TMT Observatory Corporation, which includes the California institute of Technology, University of California, and other educational institutions in Canada, Japan, China and India at a five acre site of the Mauna Kea Science Reserve.
The hearings will begin at 6pm.
There are already 13 working observatories at the University of Hawaii managed Mauna Kea Science Reserve, above the 37oo meter elevation.
In addition to the telescope, the TMT project would include a 34-hundred foot roadway to the site, and underground utilities. As a nod to Native Hawaiian reverence for Mauna Kea, employees would have to attend cultural and historical training.
If a CDUP is issued the building and operation of the TMT Observatory will require a sublease from UH, which leases the ceded lands from DLNR. The sublease would be subject to approval by the UH Board of Regents and the TMT Board, followed by approval by BLNR.
The current UH lease expires in 2033, and the TMT Observatory will be required to either decommission and restore the site at that time or obtain a new lease from BLNR.
Testimony can also be given to the DLNR's Office of Conservation and Coastal Lands (P.O. Box 621, Honolulu, HI 96817, ) or e mailed to Stephen.M.Cain@hawaii.gov
Online Pharmacy, Cheap Prescriptions and Doctor Service. Part 3