Public opinion divided at DLNR hearing in Hilo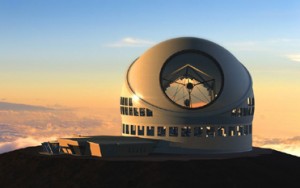 December 3, 2010 – HILO, Hawaii
Video by David Corrigan | Voice of Stephanie Salazar
It was standing room only at Hilo's county council building as the community testified on the proposed Thirty Meter Telescope project planned for Mauna Kea.
The Hawaii state Department of Land and Natural Resources is considering an application for a conservation district use application for what designers say will be the world's most advanced and capable ground-based optical, near-infrared, and mid-infrared observatory.
Because the state leases the Mauna Kea Science Reserve area to the University of Hawaii to manage, top officials from the University of Hawaii were in attendance – including UH system president M.R. C. Greenwood and UH-Hilo Chancellor Don Straney
Public testimony was divided. Supporters praised the TMT for approaching the community in a different manner than past observatory projects. However, a vocal opposition made their feelings about the project known, as well…
The State will hold a second public hearing tonight in Kona, starting from 6pm at the Natural Energy Lab.
According to the their website, the Thirty Meter Telescope dome will be 180 foot high and 217 feet in diameter. The observatory is set for first 'light' in 2017 – it hopes to be fully completed in 2018.
The TMT will enable astronomers to study objects in our own solar system and stars throughout our Milky Way and its neighboring galaxies, and forming galaxies at the very edge of the observable Universe, near the beginning of time… you can read more at their website tmt.org