Milestone parade event led by gifted local musician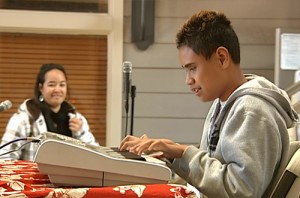 December 6, 2010 – WAIMEA, Hawaii
Video by David Corrigan | Voice of Stephanie Salazar
At sundown, the Christmas lights were turned on for Hawaii's 2nd oldest Christmas parade – this year turning 50 years old.
To mark the occasion, 50 lighted units – like HELCO's Toys For Tots Train – followed the parade route as thousands of families lined the highway on the chilly Saturday night to watch.
The elaborately adorned floats and trucks were decorated by local organizations and businesses, and many presented a uniquely paniolo perspective on the holiday parade.
This year's Grand Marshall was someone quite special: Kuha'o Kawa'auhau-Case – a 14 year old 6th grade student at Waimea Middle School who has been blind since birth, yet possesses an amazing gift for music. 
Kuha'o's extraordinary musical ability on the piano recently earned him a featured place on "Hawaii Stars' Concert of Extraordinary Abilities" on KHON-TV.  He performed for the community earlier that day, and later he played for the huge crowd as the parade's grand marshall.
Patti Cook provides more background on Waimea's piano prodigy:
Born prematurely at NHCH – he was 13 weeks early and a tiny tiny baby – just over 2 pounds – Dr. McKenna kept him alive and was medivaced to Kapiolani Medical Center in Honolulu…in ICU 3 months. Really didn't think he'd survive. Developed a serious infection that required surgery – not much hope – however, he miraculously he survived but suffered a detached retina – complete blindness – due to the surgery and exposure to 100% oxygen.

His name – Kuha'o – give to him by his father, Kekai Case, means EXTRAORDINARY…but father really didn't know this meaning when he gave the name….or how appropriate it was!

Not only was it a miracle that he survived, but his musical abilities only became apparent in the past 2-3 years…he was entirely self-taught early on, though now works w/ Doug Johnson and Kanani Kapuniai and has learned to play the magnificent organ at the Mormon Church on Sundays.

Kuha'o is 14 and a 6th grade student at Waimea Middle Public Conversion Charter School – he loves school and his teachers andis very competent with Braille andusing the new technology for the blindthat allows him to work side by side with sighted students.

He was recommended to be auditioned for Hawai'I Stars by one of his teachers, Liz Martin.

He played his own arrangement of "Paniolo Country" for the Hawaii Stars television concern.

Yes, he's excited about winning the Hawai'I Stars contest but as his tutu reminded him before he went out to play that night – "EVERYONE THERE WAS A WINNER!"

He loves to play for family and friends and at church. He loves marching and military music, spiritual music and jazz…

Kuha'o is the son of Kekai Case and Pumehana Kawa'auhau-Case, and the grandson of Donald and Iwalani Case and Anthony and Racal Kawau'auhau – all of Waimea!

"Kuha'o Case is indeed, an extraordinary young man – defined not by his blindness, but by his heart," said Lokahi emcee Penny Keli'i Vredenburg at today's Lokahi In-Gathering at KTA's Waimea Center.
Cook also forwarded some additional info on the 5 decades of Christmas celebration in Waimea:
49 years ago, the then tiny ranch town of Waimea launched its first twilight Christmas parade. For the 50th anniversary this year, the community will go "Back to the 50's to Remember When…"

…When Waimea was so small that everyone knew (or were related to) everyone…and virtually all worked for Parker Ranch.

…When the late Richard Smart would host a wonderful Christmas party in historic Barbara Hall (now Parker School's main building) and everyone would be personally remembered with a gift.

…When ranch paniolo would cut a giant tree from the slopes of Mauna Kea for the celebration and then remove an entire wall from Barbara Hall to slide in the tree for the party.

…And…when Lokahi (unity) was a way of life!

To commemorate Christmases past – and to help insure the coming holidays are warm and bright for all, Waimea is inviting families andfriends from all over the island to join in a Lokahi Christmas Celebration to recall and cherish a half-century of memories.