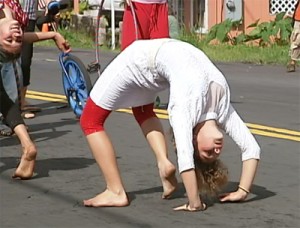 December 6, 2010 – PAHOA, Hawaii
Video by David Corrigan | Voice of Stephanie Salazar
In the heart of the Puna district, a holiday parade is a horse of a different color, and Saturday morning's eccentric march down Pahoa Village Road attracted a huge crowd.
The grand marshall of the event was Jan Ikeda, who for 6 decades has cut hair in Pahoa, running Jan's Barber Shop.
Puna councilman-elect Fred Blas led the way for the newly formed Puna Panthers football team, who had a confident Mayor Billy Kenoi aboard the float. "Future BIIF champs!" Kenoi shouted.
Throughout the parade were classic cars, horses, and keiki.
And what would Christmas in Puna be without samba dancers, zumba, circus performers… and an army of joyous Hare Krishna.
Online Pharmacy, Cheap Prescriptions and Doctor Service. Part 3