"We will get the job done!" promises Yagong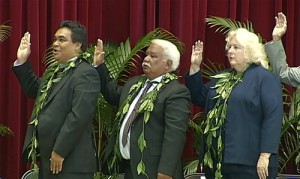 December 6, 2010 – HILO, Hawaii
Video by David Corrigan | Voice of Tim Bryan
Before the swearing in ceremonies were held on Tuesday, the outgoing Hawaii County Council met for the final time in Hilo.
The only item on the agenda: recognition for the three councilmembers stepping down… Kelly Greenwell, Guy Enriques, and Emily Naeole.
For the councilmembers, who have worked closely for the past two years or longer, it was an emotional goodbye. Despite their differences over the past months, the colleagues expressed sincere thanks for each other's public service.
Kelly Greenwell, perhaps the most controversial figure on the council over the last two years, was not present. However, lawmakers praised his service to the county, and his ability to "think outside the box".
And Emily Naeole, the only two term councilmember stepping down, was given an emotional farewell.
A few hours later, the Inaugural Ceremony for the new council was held at the Civic Auditorium.
The Kanu o ka Aina Charter School led the councilmembers elect down the aisle with a chant.
Joining the lawmakers on stage was Mayor Billy Kenoi, seated next to incoming county council chair Dominic Yagong. As the next chair, Yagong addressed the crowd and said that the new governing body will be ready for the challenges that lie ahead.
The honorable Judge Ronald Ibarra swore in the new members, which included Fred Blas serving Puna, Brittany Smart representing Ka'u, and the return of Angel Pilago for North Kona.
The keynote speaker for the event was KTA's Derek Kurisu, who offered the magic of "pixie dust" to inspire greatness in the island lawmakers.
After the event, the scene looked like the end of a high school graduation, as family and friends adorned the new councilmembers with stacks of flower lei.
New Patient Safeguards for Online Drugstore Prescriptions. Part 2