Guy Kaulukukui gets Deputy Director fro DLNR nod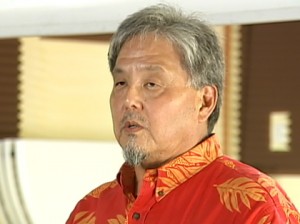 December 7, 2010 – Big Island of Hawaii
By Stephanie Salazar
This weekend, Hawaii's incoming Abercrombie administration announced more cabinet appointments.
Weeks of speculation ended when it was officially announced that State Sen. Russell Kokubun will serve as chair of the Department of Agriculture.
Kokubun, who represents Hilo, Puna and Ka'u, has previously served in numerous leadership positions including as Vice President of the State Senate, Chair of the Water, Land, Agriculture and Hawaiian Affairs Committee, Chair of the Hawaii 2050 Sustainability Task Force and Chair of the Commerce, Consumer Protection and Affordable Housing Committee.
The 62-year old Kokubun was appointed to the State Senate in 2000, and was subsequently elected in 2002 and re-elected this year.
The new governor must appoint someone to Kokubun's vacated state senate seat – among those expressing interest are former Puna councilman Gary Safarik and Hamakua Springs Country Farm owner Richard Ha . 
The other Big Island figure on the new cabinet nomination list is Guy Kaulukukui, appointed as Deputy Director of Department of Land and Natural Resources.
Kaulukukui, seen in the video above conducting an informational meeting on behalf of the Kohala Center's Agriculture Development Plan in 2009, is the Associate Director for Strategic Partnerships at The Kohala Center.
Prior to that, Kaulukukui was a visiting professor of economics at UH-Hilo, senior adviser and chief of staff to Honolulu City Council Chairman Todd Apo, and Vice President for Cultural Studies at the Bishop Museum.
The 50-year old Kaulukukui is a Kamehameha Schools graduate, and earned his Economics degree from UH-Manoa, a Master's of Business Administration from Hawaii Pacific University and a doctorate in Economics Education from the University of Kansas.