Tearful moments in court as father hugs his daughter's killer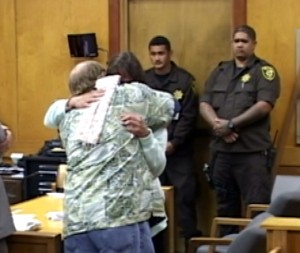 December 8, 2010 – KONA, Hawaii
Video courtesy Hawaii News Now | Voice of Karin Stanton
In May 2009, one year old Aliyah Braden was killed in a car crash in Kailua-Kona, at the intersection of Lako Street and Kuakini Highway. Braden's mother was also severely injured – leaving her father Wayne to cope with the emotions of loss that still hurt to this day.
"I can't smell her anymore," Braden said, holding his daughter's baby blanket. "She's gone."
The crash – like so many on Hawaii Island – was the result of drunk driving. Wayne Braden has since devoted his life to fighting the war against intoxicated driving. And on Tuesday, he spoke in court, with his daughter's baby blanket draped over his shoulder. A plea deal had been reached in the case of his daughter's killer, and it was now sentencing day in Kona court for Valereen Kaleohano-Knittle.
"There's thousands of girls that look just like that," Braden said. "Beautiful, who are out there waiting to be smashed by drunks who have no consideration whatsoever."
Knittle pleaded guilty to first-degree negligent homicide, first-degree negligent injury, consuming or possessing intoxicating liquor while operating a motor vehicle, and inattention to driving. She had been driving with a blood-alcohol level of 0.249, which is triple the legal limit. The plea deal dismissed four other counts against Knittle, including the most-serious charge of manslaughter.
The 51-year-old, who says she has given up drinking, said she wants to speak about her experience to schools and community groups.
And as Knittle delivered her tearful apology to the Aliyah's family, what happened next stunned the courtroom…
An embrace; a father and his daughter's killer, that even had Circuit Court Judge Elizabeth Strance emotional.
Kaleohano-Knittle was sentenced to 10 years in prison. She must also pay restitution, but the amount will possibly be determined in January.