One farmer promoting inexpensive beetle traps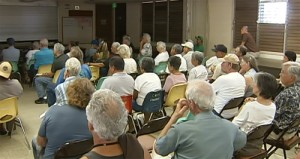 December 9, 2010 – CAPTAIN COOK, Hawaii
Video by David Corrigan | Voice of Stephanie Salazar
As the dreaded Coffee Berry Borer infestation grows, and a coffee quarantine goes into effect on the Big Island of Hawaii, Kona farmers say the industry is in dire straights.
Which is why John Sigurdson of Makapueo Farms joined a crowd of local coffee farmers at Yano Hall in Captain Cook on Wednesday. There they listened to representatives from CTAHR – or, the College of Tropical Agriculutre and Human Resources – talk about the invasive pest.
The Coffee Berry Borer is considered the world's most destructive coffee pest. Researchers estimate damage caused by the CBB worldwide to be about $500 million per year in a global industry worth $90 billion per year.
During the meeting, coffee farmers – already under tremendous pressure – fired away with questions, and listened closely for tips on how to get rid of the bug, which has spread from North Kona to Ka'u.
Meanwhile, a quarantine has been enacted by the state. It was put into effect just a few days ago, and it means farmers cannot transport green coffee beans around the island.
The state Department of Agriculture has approved several treatment methods, including fumigation and heat treatment, that would allow for the transport of unroasted seed.
But Sigurdson says the state should have acted faster when it first confirmed the pest on Hawaii Island in September. Sigurdson introduced an inexpensive trap to the many farmers at the meeting, and says it is effective tool in the fight against the infestation.
On his property, Sigurdson says the traps are working well. He has already caught hundreds of bettles in just one trap.
A CTAHR representative agreed that Sigurdson's trap is an excellent weapon in the CBB fight. And everyone agrees the time to act is now.
New Patient Safeguards for Online Drugstore Prescriptions. Part 2