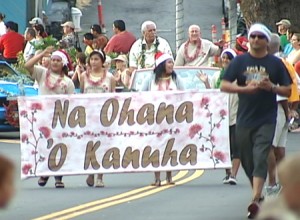 December 15, 2010 – KAILUA-KONA, Hawaii
Video by David Corrigan | Voice of Karin Stanton
Sherry Bracken contributed to this report
This Friday, hundreds lined Alii Drive in Kailua Village at sundown to witness the annual Kona Christmas Parade.
Numerous floats and organizations marched to the cheers of the audience.
The well known Kanuha Ohana was honored as the Grand Marshals of the parade this year. Sherry Bracken provided BIVN with some in depth info about Kona's legendary family:
This year the Kailua-Kona Christmas Parade Committee, which operates under the aegis of the Rotary Clubs of Kona and the Lions Clubs, decided to honor an entire family as Grand Marshals.

The Kanuha 'Ohana can trace their lineage back 109 generations, to Tahiti and Polynesia and before. This they know through chants that have been passed down through the family. Here, their ancestors arrived on Hawaii Island pre contact. They can trace their ancestry to Chief Umi-a-Liloa (1470–1525), who ruled as the 14th Alii Aimoku of Hawaiʻi island from 1510 to 1525.

The Kanuha 'Ohana is a large family, very involved in cultural preservation, education, and youth activities. The current generation of six children (in their 50s and 60s) grew up with their parents, Betty and Clement Kanuha, right in downtown Kailua-Kona. Their home was next to Mokuaikaua Church, the oldest Christian Church in the state.

Members of the extended family, including cousins, still own property within the Keopu I Ahupua'a. Clem, or Red, supported the family working at Trans Pacific and then Aloha Airlines, and by moonlighting as a Hawaii County Police Officer. Mom Betty only went through 11th, grade, but had a strong belief in education so ensured her children were both formally and informally educated. The oldest daughter Rosemary, 68, now lives in Bel Air, in Los Angeles County. She says her Mom as the smartest woman she knew. She was intellectually capable of discussing anything at any time, because she'd continued her self education past her formal schooling. She loved the land and loved art, and taught her children and grandchildren the same.

The "children" include Rosemary; Zachary; Monica (called Moniques by the family); Clement Jr., called Junior by everybody, most of whom don't know what his formal name is; Lovena, called Pocho, and the youngest, Jerome, now 58. There's also a hanai brother, Ipo (recently deceased) and other extended family members.

One of the younger generation, Dru Kanuha, 26, Jerome's son, said he never was sure growing up who was actually related or just local kine related.

Rosemary had several different school experiences, including boarding at St. Joseph's in Hilo as a young girl. She graduated from UCLA, considered teaching, and then went back to get her law degree. After a career at Air France and United Airlines, Rosemary now runs Classic Party Rentals in Los Angeles–a premier event planning organization that now even handles event planning for former Hawaii resident President Barack Obama when he visits Southern California.

Rosemary says Junior was a beachcomber who loves the ocean and anything marine life…and because of that was invited in to New Caledonia to advise them on how to protect their reefs. Junior has sailed on the Hokule'a. He's also been actively involved in cultural preservation for land that has ties to the family, including Keolonahihi Heiau and the Keakealani Wahine Complex, both south of Kailua Village. Junior's been suffering some health challenges of late. Dru says Uncle Junior had been one of the main story keepers for the family, and Dru now is one of the younger generation interested in helping keep the stories.

Pocho got her nickname as a child, because she talked a lot. When she was young, she was quite the tomboy, taking part in karate and other martial arts. She went on to excel in sports, with free dive records and swimming records, and also appeared as an extra in movies filmed in Kona.

Jerome, the youngest, continues to carry on his parents' work by staying involved in the community. He's coached tennis at Kealakehe High, worked with his family to create the Betty Kanuha Foundation to provide sports and academic opportunities for young people, and is an active member of Kai Opua Canoe Club. His great grandfather was one of the founders of the club in 1929. Kai Opua is one of the oldest paddling clubs in the state. When Jerome was in college in Los Angeles in the 70s, he even persuaded some Southern California paddling clubs to take part in the Queen Lili'uokalani Long Distance Races, which Kai Opua hosts.

Both Zachary and Moniques have stayed close to home, raising their families. Moniques continues to work as a Hawaiian Language instructor at Kahakai School in Kailua-Kona. When asked what distinguishes the members of the Kanuha 'Ohana, Pocho said she believes the legacy is leadership. Everybody in the family understands their obligation is to give a lot to the community, whether through education or helping young people achieve athletically or in preserving the culture or even in spreading aloha to the mainland. She also said Mom Betty said it is important to embrace life … and they do. At a recent family reunion at Hale Halawai in Kailua-Kona, over 200 relatives and hanai family members gathered. They heard from a Hilo historian about the family's geneology, they had a talent show, and they had a luau. Pocho said Mom Betty would have delighted in being there.
New Patient Safeguards for Online Drugstore Prescriptions. Part 2