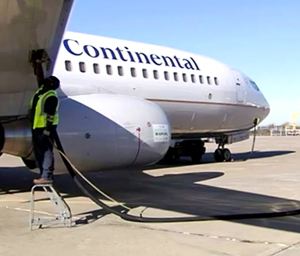 December 16, 2010 – HILO, Hawaii
Video courtesy Continental Airlines and Hawaii County | Voice of Stephanie Salazar
Hilo will get direct mainland flights starting next June.
Yesterday, Continental Airlines announced new daily nonstop service between Hilo and the Los Angeles International Airport (LAX) and once-weekly service to Hilo from San Francisco International Airport (SFO) beginning June 9, 2011.
Hilo has not had direct flights to the West Coast since ATA shut down abruptly in April 2008.
Hawaii County Mayor Billy Kenoi was pleased to share his thoughts on the new development in this video release.
Based on initial Hawai'i Tourism Authority projections, the flights could bring nearly 40,000 more visitors to the island and generate $50.6 million in direct visitor spending and $5.52 million in tax revenue, according to HTA president and CEO Mike McCartney.
From the HTA:
CHICAGO, Dec. 15, 2010- Continental Airlines today announced new daily nonstop service to Hilo, Hawai'i, from Los Angeles International Airport (LAX) and once-weekly service to Hilo from San Francisco International Airport (SFO) beginning June 9, 2011.

The new flights complement Continental's and United's extensive service to Hawai'i. United, which has served the islands since 1947, and Continental collectively provide more mainland service to Hawai'i than any other carrier from their hubs at Los Angeles, San Francisco, Denver, Houston, Chicago and Newark/New York.

"We are excited to provide customers the only direct flights to Hilo from the mainland," said Jim Compton, executive vice president and chief revenue officer of United Continental Holdings, Inc. "These flights will offer customers convenient, nonstop service to the BigIsland without having to connect in Honolulu."

"The addition of the two routes is welcome news for Hawai'i Island and the entire state, and a result of the momentum established by our tourism industry to lead Hawai'i's tourism recovery. Based on initial Hawai'i Tourism Authority projections, the flights could bring nearly 40,000 more visitors to the island and generate $50.6 million in direct visitor spending and $5.52 million in tax revenue," said Mike McCartney, Hawai'i Tourism Authority president and CEO.

Continental will utilize a 160-seat Boeing 737-800 aircraft on the new routes, with 16 seats in first class and 144 seats in economy. The new flights are timed to provide convenient connections at Los Angeles and San Francisco, with an extensive network of United and Continental flights to more than 82 destinations throughout the U.S., Canada, Europe and Latin America. United's hubs in Los Angeles and San Francisco are the largest of any carrier on the West Coast.

"Hilo has demonstrated its value as a premier visitor destination with nearby Hawai'i Volcanoes National Park and the annual Merrie Monarch Hula Festival as featured attractions, and we believe that once visitors discover Hilo, they will want to return again and again," said County of Hawai'i Mayor Billy Kenoi. "I am grateful for Continental's confidence in our future as a visitor destination, and I know these direct flights will become a win-win for both Continental and Hawai'i Island.Aloha and mahalo to Continental Airlines for being an industry leader and making this happen."