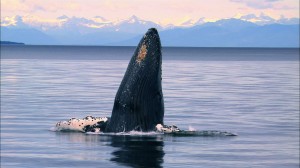 By Stephanie Salazar
While the west side of the Big Island deals with high surf this week, the ocean is being celebrated through the art of film in Waimea starting Thursday (Jan. 6th), with the first half of the 8 day Waimea Ocean Film Festival.
Held at various sites around the island, the festival features screenings of more than 30 documentary films and presentations by experts, film industry leaders and artists.
Move screenings will be held at Kahilu Theatre, HPA, Parker School, and at the Mauna Kea Resort. An opening gala was held Wednesday night at the Four Seasons Resort Hualalai.
The festival will show again at Four Seasons Resort Hualalai January 13-15, 2011.
Throughout the event, Hawaiian cultural teachers will help participants understand the Hawaiian cultural reverence for the land and the sea. The west Hawaiian voyaging society, Na Kalai Wa'a Moku o Hawaii will host breakfast talks and evening activites to share with participants these cultural values, knowledge about the voyaging canoes, the ancient art of wayfinding, and the old stories and culture.
The video of the high surf in Kona was provided courtesy YouTube user "pcsige" – Paul Csige of Kona – who himself has done some amazing camera work in capturing stand up paddle boarding and other water sports in Hawaii.
Also shown is Disneynature's Oceans, filmed around the globe over 5 years by French directors Jacques Perrin and Jacques Cluzaud. Participants will have the chance to talk story with executive producer Jake Eberts following the screenings of the film on Thursday and Saturday at 9:30am at Kahilu Theatre, and again at the same location during a discussion at noon on Sunday.
The other video shown here is from the trailer for Hawaii's Undersea Ohana, by Big Island filmmaker Charles Fasano. He will also be available for Q&A after the screening of his film at HPA between 9:30 a.m. and 11:45 a.m. , the second local production in a double feature, following Pelagic Magic by Matthew D'Avila, shot in the deep waters of Kona.
For more info the festival schedule, visit http://waimeaoceanfilm.org/