By Tim Bryan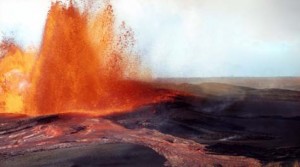 A guided hike to Mauna Ulu in Hawaii Volcanoes National Park will be a Volcano Awareness Month highlight in January.
The 3 mile trek will take place on Saturday January 8, and will be led by Hawaiian Volcano Observatory geologist Don Swanson.
Swanson witnessed the first two years of Kilauea Volcano's 1969–1974 east rift zone eruption, and he will share his experiences during the hike.
Mauna Ulu – which means "Growing Mountain" – was formed after a five year eruption on the upper east rift zone of Kilauea began on May 24, 1969.
The hike is free and open to the public, but park entrance fees apply. Hikers should wear sturdy shoes, bring drinking water and snacks, and be prepared for cool, rainy weather.
For more information about this hike and other Volcano Awareness Month events, visit the HVO Web site at http://hvo.wr.usgs.gov or call (808) 967-8844.