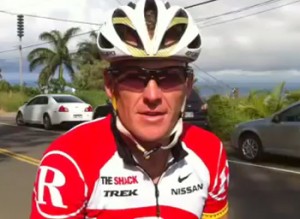 By Stephanie Salazar
The world's most famous cyclist has conquered what some call the world's steepest road.
This Friday, Lance Armstrong (@lancearmstrong) – who has been biking around the Big Island of Hawaii recently, as he does from time to time – accepted a challenge issued over "Twitter" to ride up the Waipio Valley Road.
The challenge was laid down by Mark Slavonia (@slavonia), of San Fransisco, who also offered to donate $10,000 to Armstrong's Live Strong charity foundation.
The road is infamous and rightly so – rising 800 feet from Waipio Valley to the top in just 6/10ths of a mile. The average grade is 25% and the peak grade reaches 40%.
Believe it or not, Armstrong made it in a little over 9 minutes. After the ride, Armstrong's crew filmed a quick video and posted it on YouTube, on the Team Radio Shack user account.
Slavonia says he will make good on his promise to donate the money.