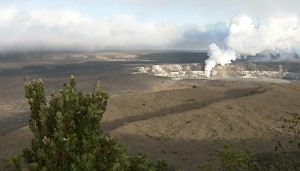 By Tim Bryan
Volcano Awareness Month continues with a special presentation on Kilauea's ongoing  eruption Tuesday night at the National Park.
At the January 11th "After Dark at the Park", Hawaiian Volcano Observatory geologist Matt Patrick will present an overview of Kilauea's summit eruption, including an in-depth survey of volcanic processes occurring within the vent.
In March 2008, a new volcanic vent opened in Halema`uma`u Crater at the summit of Kilauea.
Since then, the eruption has consisted of continuous degassing, occasional explosive events, ongoing ash emissions, and fluctuating lava pond activity in an open vent that has now grown to more than 430 feet wide. While the eruption fascinates visitors, it also provides an abundance of data and insights for scientists.
The event coincides with Hawaii Island's second annual Volcano Awareness Month in January.
Visit the HVO Web site at http://hvo.wr.usgs.gov/ or call (808) 967-8844 for more information.