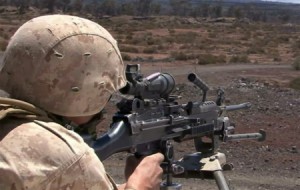 Video by David Corrigan | Voice of Stephanie Salazar
Army officials with the Pohakuloa Training Area held a public scoping meeting at Hilo Intermediate School on Tuesday, on the proposed modernization and expansion of facilities at the military base located between Mauna Kea and Mauna Loa on the Big Island of Hawaii.
The Army published a Notice of Intent that it plans to prepare a programmatic environmental impact statement – or PEIS.
The army is seeking public input in order to evaluate the potential environmental effects associated with the modernization of training ranges, infrastructure, and support facilities at PTA.
The army says the upgrades would "improve the current shortfall in collective (group) live-fire training capabilities for units stationed in Hawaii."
The PEIS will evaluate the potential impacts of constructing and operating an Infantry Platoon Battle Area that would include an Infantry Platoon Battle Course, Live-fire Shoothouse, and a Military Operations on Urban Terrain facility.
After an open house session, an open microphone session was held. Members of the public, who were not too happy with the military expansion at Pohakuloa, made their voices heard.
"We've had to endure this constant expansion of the occupation," stated Kumu Hula Paul Neves. "Pretty soon the Big Island will no longer be the Big Island. Because it will be an island called the U.S. Military."