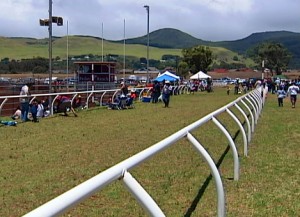 By Stephanie Salazar
Parker Ranch is backing out of plans to expand its use of their rodeo arena for use for concerts and other non-paniolo events.
Several neighbors of the Waimea arena felt the continued and expanding special use was beyond proper use for the area – and were about to proceed with a contested case before the Leeward Planning Commission. The residents were concerned about parking, noise and littering.
The matter is on the agenda for today's Leeward Planning Commission hearing in Kona.
Parker Ranch had applied for a special permit to allow special events at the rodeo arena facility, but according to an agreement reached between the neighboring Lalamilo Farm lot residents and the ranch – the permit will be withdrawn – and the ranch agrees to make certain road improvements.