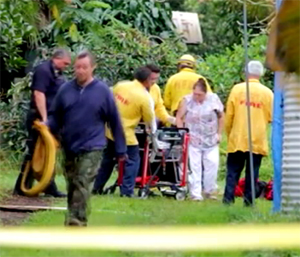 Video courtesy Baron Sekiya, Hawaii247.com | Voice of Stephanie Salazar
Rescue personnel rushed to the aid of a woman who fell into a lava tube on 13th Street in Hawaiian Paradise Park subdivision on Wednesday.
A firefighter on scene described the hole that the woman fell into as being about three to four feet wide.
Rescue crews used ladders, ropes and tackle to extract the woman from the hole, as can be seen here in this footage courtesy Hawaii247.com.
The woman appeared to have a leg injury but was otherwise in good condition.