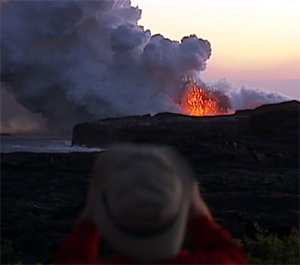 By Tim Bryan
With homes in Kalapana recently destroyed by lava, and numerous others still threatened, its no wonder everyone wants to know if they are adequately protected from Pele's fire.
On Friday, January 14th, officials will try to answer that question during a special talk at the University of Hawaii-Hilo.
When a Hawaiian volcano erupts, County, State, and Federal organizations work closely together to keep island residents and visitors informed and safe. Each agency has a different role with distinct responsibilities.
Learn who is responsible for what — and who's watching out for you — during this presentation by Jim Kauahikaua, USGS Hawaiian Volcano Observatory Scientist-in-Charge…
Quince Mento, Hawai'i County Civil Defense Administrator…
…and Talmadge Magno, Hawai'i Volcanoes National Park Chief Ranger.
Each speaker will talk about how his/her agency responds to particular volcanic eruption scenarios.
The event is one of many programs offered by HVO during Hawaii Island's second annual Volcano Awareness Month in January.
Visit the HVO Web site or call (808) 967-8844 for more information.