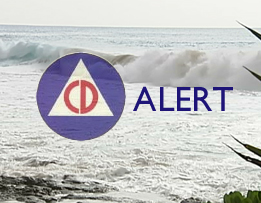 Audio message courtesy Hawaii County Civil Defense
UPDATE – This High Surf Warning is no longer in effect.
UPDATE – from HCCD: Kauna'oa (Mauna Kea Resort) and Maumae Beaches are closed due to high surf. Current listing of closed beaches include La'aloa (Magic Sands), Kahalu'u, Hapuna, Kohanaiki (Pinetrees), Ooma, Kukio, Four Seasons, Pu'u Honua Nat. Park beach, Kaloko Nat. Park beach.
After a week of high surf on the west side of the Big Island of Hawaii, Kona and Kohala residents are preparing for the biggest day of surf to hit shores in over a year.
The National Weather Service says the incoming swell has a strong westerly component that will produce much larger waves than normal, especially for Kona. The NWS says damaging waves will impact Alii Drive and ocean front properties in Kailua–Kona, especially after high tide just after midnight tonight.
Wave heights, expected to be in the 12 to 22 foot range, will increase in size this morning and peak this afternoon. The high surf will continue into Monday. The NWS and civil defense is warning the public about beach erosion and dangerous rip currents.
The Hawaii County Civil Defense issued this message on Sunday, January 16th:
This is a high surf update for Sunday, January 16th. The National Weather Service has issued a high surf warning for the West facing shores of the Big Island. Effective today through tomorrow evening, Monday January 17th. Affected shorelines include Kona and Kohala. Surf is expected to begin increasing today and is forecasted to reach heights of 12 to 22 feet. Because of the warning the following are issued: Oceanfront residents and beach goers are urged to be on the alert for high and dangerous surf conditions. Beach closures are likely. Listen to your local radio station for updates. Property owners affected by high surf should take measures to secure their property. Boat owners in Kona and Kohala should take measures to secure their vessels.