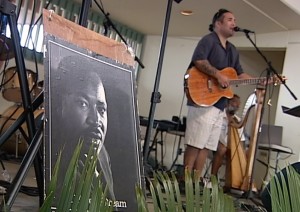 Video by David Corrigan | Voice of Stephanie Salazar
The Martin Luther King Jr. 30th Anniversary Birthday Commemoration was held at the Makeo Pavilion at the Old Kona Airport Beach Park on Sunday.
The community celebration and pot luck featured a program of music and speeches, all inspired by the late civil rights leader. Pictures and birthday cards – created by Kealakehe second graders – adorned the walls.
Organizer Kathy Simmons said Dr. King's message resonates even in Hawaii, hundreds of miles away from the mainland United States.
The following day, on the other side of the island, the community dug into the Martin Luther King Jr. "Day of Service" at the Hilo High School garden.
Kaiser Permanente Hawaii physicians and staff members partnered with the Hawaii Island School Garden Network, volunteering for the hard work of clearing weeds and invasive growth to make way for new garden plantings.
This steep section was a particluar challenge to clear… but volunteers worked from 8:30 in the morning until 1 in the afternoon, trying to get as much done as possible.
Volunteers also worked at the Mala'ai Garden at Waimea Middle, Kona's Kahakai Elementary, and schools on the other Hawaiian islands.
"Kaiser Permanente is truly a trusted neighbor in the communities that we have the honor to serve," said Dr. Daryl Kurozawa, Kaiser Permanente's physician leader for the Neighbor Islands, in a media release. "We are privileged to honor Dr. Martin Luther King Jr. today by volunteering and joining with the people of Hawaii in celebrating Dr. King's enduring legacy of building better communities through service."