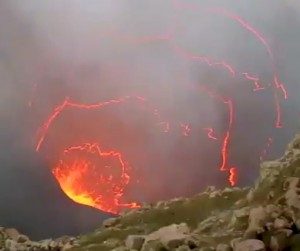 Video courtesy USGS Hawaiian Volcano observatory | Voice of Tim Bryan
The Hawaiian Volcano Observatory has been keeping a close eye on the fascinating activity at the summit of the Kilaeua volcano.
This footage – taken last week – shows spattering of the lava lake within the Halemaumau vent. The video also captures audio from the vent, which sounds like the churning of the ocean.
In recent weeks, geologists have observed high lava stands – which is what the scientists call the rise-and-fall cycles of the lava lake – at the summit of the active volcano. For each high stand, the lava surface rose several meters over a base level of about 395 ft. below the Halema`uma`u Crater floor.
The lava lake continues to have an overall north-to-south circulation.
Since early 2010, glow has been most intense between high stands from the Jaggar Museum Overlook overnight.