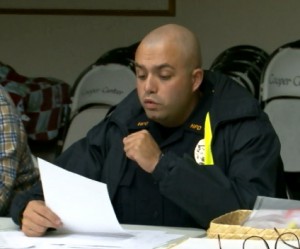 by Tim Bryan
Residents and property owners of Royal Hawaiian Estates met at the Cooper Center in Volcano for the subdivision association's annual meeting recently.
Some in attendance wanted to know more about the recent drive by shootings that have occurred in the neighborhood.
A resident whose home was hit by bullets described what happened on the night of the shooting.
Hawaii County Police said that the investigation is ongoing, and did not say much at the meeting outside of what was provided in a media release.
The conversation later turned to a discussion on the problem of squatting in the remote Volcano area subdivisions, a contributing factor to crimes in the neighborhoods. Police say it must be the responsibility of the owner to evict unwanted inhabitants.