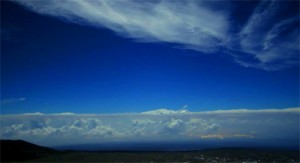 Video courtesy Canada-France-Hawaii Telescope
A new camera on Mauna Kea is offering a new look at the weather over the island.
The Canada-France-Hawaii Telescope's new high sensitivity "Cloud Camera" takes pictures of clouds and other weather at night, and it even works on moonless nights.
The pictures are in color, at a field of view comparable to a human eye and at an interval sufficient to see changes in the clouds.
This video was taken on Wednesday.
The camera is facing east towards Hilo… those are the lights of Hilo city far below. The camera starts taking images just before sunset and stops just after sunrise.
Since Mauna Kea observatories are increasingly operated remotely, such a camera gives astronomers a chance to see what the weather is up to at and below the summit at night.
Since it is so dark at the summit, the camera uses long exposures and high sensitivity to illuminate the cloud cover using only starlight. 
Visit the new Cloud Cam on the CFHT website: http://www.cfht.hawaii.edu/en/gallery/cloudcams/