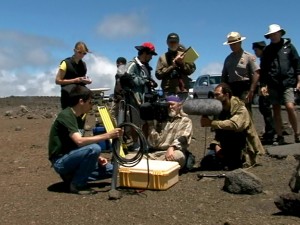 By Tim Bryan

Volcano enthusiasts will have a chance to learn how scientists track the movement of magma within Kīlauea and Mauna Loa at an upcoming talk in Hilo.
U.S. Geological Survey Hawaiian Volcano Observatory scientist Mike Poland will present "A volcanologist's toolkit" at the University of Hawaii-Hilo's Wentworth Hall on Friday evening.
Poland will explain how his toolkit of methods and instruments keep track of the volcanic activity on Hawaii Island. Poland will also discuss how state-of-the-art monitoring tools have yielded new insights into how volcanoes work.
The USGS says scientists can now monitor deformation of the Earth's surface using satellite imagery, and surveys of Earth's gravity can show where magma is accumulating within a volcano. Poland is expected to touch on these topics as well.
The talk is just one of many programs offered by HVO in January, during Hawaii Island's second annual Volcano Awareness Month. For details about this presentation and other events, visit the HVO Web site, or call (808) 967-8844.