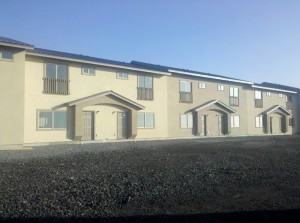 By Stephanie Salazar
Last week, the Hawaii State Land Use Commission voted to once again revert the land use classification at Aina Lea in South Kohala from urban to agriculture.
The five to three vote came at a meeting held in Waikoloa, because commissioners felt the developers had failed to meet the condition of building 385 affordable housing units at the project site by November 2010.
DW Aina Lea, the company attempting to develop 61 acres within the 1,000 acre Bridge Aina Lea parcel, has already erected 48 townhouse units at the location, but apparent financing troubles have slowed  progress. The developers poured the concrete on the first unit in 2009 during this ceremony.
The project will appear before the commission again. Attorneys for DW Aina Lea are challenging the conclusion of the commission vote, saying six votes are needed to revert the land classification.