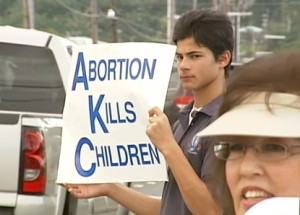 Video by David Corrigan | Vocie of Stephanie Salazar
Hawaii Right to Life was out in force on Monday, lining Kilauea Avenue in front of the new state courthouse and waving pro-life signs.
The event is held each year on the anniversary of the U.S. Supreme Court's Roe v. Wade and Doe v. Bolton decisions, which legalized abortion throughout the United States. This year is the 38th anniversary of the decision.
According to its website, The March For Life is "the collective effort of grassroots prolife Americans to assure that our laws protect the right to life of each human being."
The group is pushing for a mandatory "human life ammendment" to the Constitution of the United States.