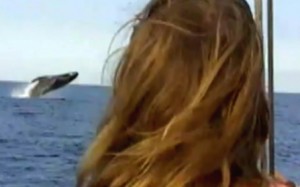 Video by David Corrigan | Voice of Stephanie Salazar
Volunteers were on the look-out for humpback whales at Onekahakaha Beach Park in Keaukaha on Saturday. The Sanctuary Ocean Count project offers the community a chance to monitor humpback whales from the shores of O`ahu, Hawai`i and Kaua`i.
Foggy conditions limited the visibility for most of the session, although the mist drifted away towards the end of the day's official whale count, just in time to see spinner dolphins launching out of the waters of Hilo bay.
The count is held the last Saturday of January, February, and March (during peak whale season)  from 8:00 a.m. to 12:15 p.m.
And while we are on the subject of whales, we might as well share this footage from a few weeks back.
It was a very special birthday present off the coast of Hilo for PR specialist Jessica Ferricane of Irondog Communications.
This amazing whale breach – and priceless reaction – was published to YouTube shortly after it happened.
This video was filmed by her husband, Capt. Steve Turner, while aboard their sailboat "Riva"
These whale sightings will be frequent until spring, when the peak of the whale season ends.